What a year it's been for Ariana Grande.
The 26-year-old has been through so much in the last 12 months, from chart-topping songs to tearful goodbyes. Throughout all of the highs and lows of the year, Grande has continued to hold her head high, pushing through the pain and connecting with her fans with her music.
On Monday night, the "Thank U, Next" singer is up for 10 awards at the 2019 MTV VMAs. Grande is nominated for Video of the Year, Artist of the Year, Song of the Year, Best Pop, Best Hip Hop, Best Direction, Best Visual Effects, Best Editing, Best Art Direction and Best Cinematography.
As we wait to see the results of the award show categories, let's take a look back at Grande's evolution this year, from heartbreak to a Grammy win and beyond.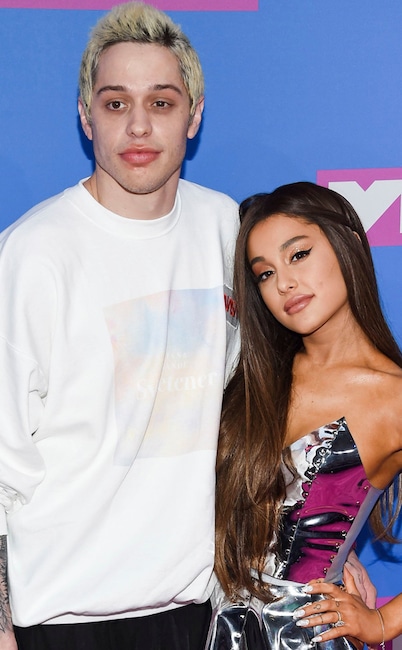 Evan Agostini/Invision/AP/REX/Shutterstock
August 2018

Red carpet debut. Days after dropping her Sweetener album, Grande attended the 2018 MTV VMAs in New York City, walking the red carpet with then-fiancé Pete Davidson. During the ceremony, Grande gave Davidson a shout-out in her acceptance speech for Best Pop Video, thanking the SNL star for "existing."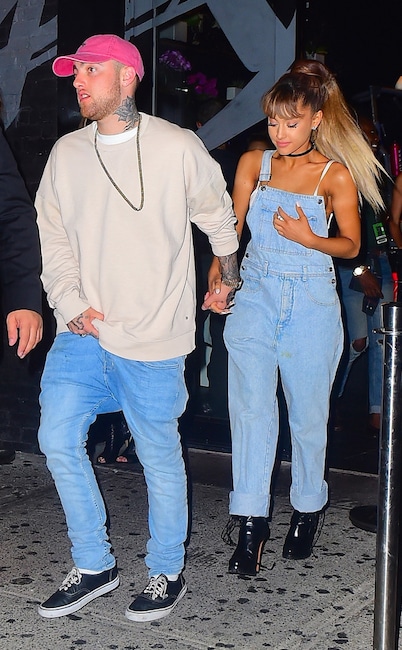 247PAPS.TV / Splash News
September 2018

A tragic goodbye. On Sept. 7, 2018, Mac Miller passed away at the age of 26. A week after his death, Grande paid tribute to her ex in a moving post on social media. "i adored you from the day i met you when i was nineteen and i always will," Grande wrote. "i can't believe you aren't here anymore. i really can't wrap my head around it."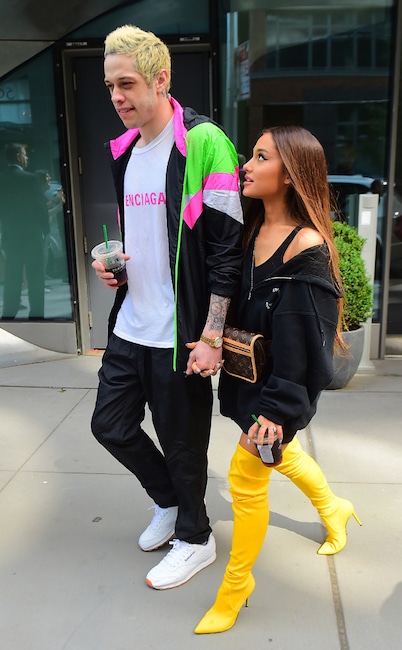 247PAPS.TV / SplashNews.com
October 2018

Split news. In mid-October, news emerged that Grande and Davidson had broken up, calling off their engagement. Days later, Grande took to her Instagram Story to address the split, writing to her followers, "time to say bye bye to the internet for just a lil bit. it's hard not to bump news n stuff that i'm not tryna to see rn. it's very sad and we're all tryin very hard to keep goin. love u. and thank u for bein here always."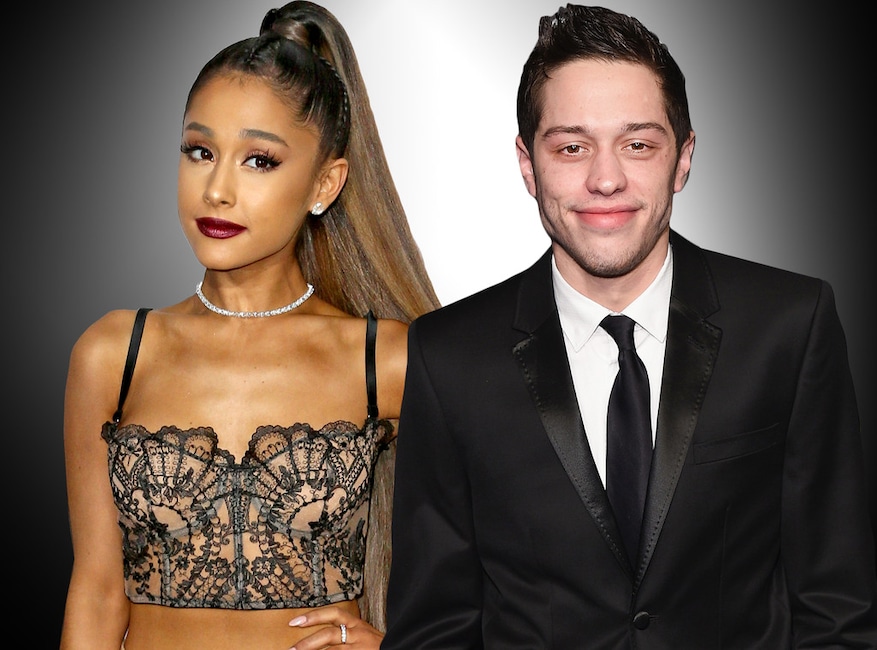 Getty Images
November 2018

Thank U, Next. In early November, Grande released her new song, "Thank U, Next." In the track, Grande sings about her exes, including Davidson, Miller, Big Sean and Ricky Alvarez. "Thought I'd end up with Sean / But he wasn't a match / Wrote some songs about Ricky / Now I listen and laugh," the lyrics state. "Even almost got married / And for Pete, I'm so thankful / Wish I could say, 'Thank you' to Malcolm / 'Cause he was an angel."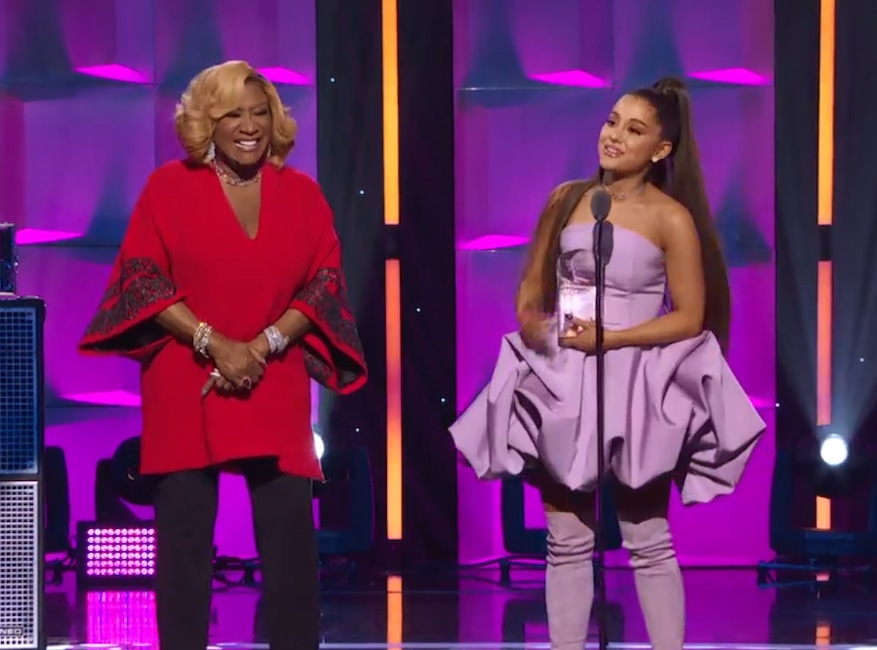 Periscope
December 2018

A tearful speech. In December, Patti LaBelle presented Grande with Billboard's Woman of the Year Award. During her acceptance speech, Grande teared up while reflecting on her year. "This is really special," Grande said. "I want to say that I find it interesting that this has been one of the best years in my career and one of like the worst years in my life."
Humberto Carreno/INSTARimages.com
New Year's Eve

Vegas cancellation. Shortly before she was set to perform, Grande canceled her New Year's Eve weekend concert in Las Vegas. "Vegas, I'm currently working through some health issues and am beyond sorry I won't be able to see u this weekend," Grande wrote to her fans on her Instagram Story. She later took to Instagram to write, "Farewell 2018, you f–k. I hope this new year brings you all much laughter, clarity and healing. Be gentle with yourselves and each other."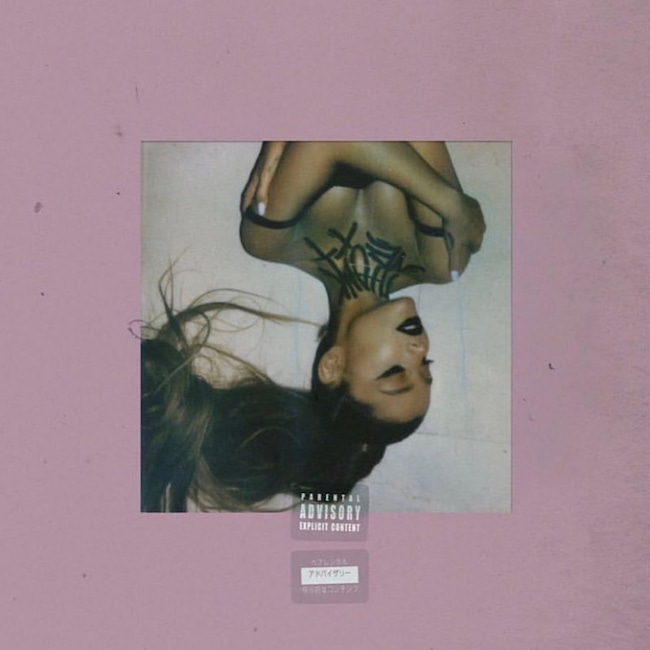 Instagram
February 2019

Album debut. In February, Grande dropped her new 12-track album, Thank U, Next. On the album, Grande addresses her relationship with Davidson and losing Miller. In "Ghostin," Grande sings about how loss can impact a relationship. "Baby, you do it so well/You been so understanding, you been so good/And I'm puttin' you through more than one ever should," Grande sings. "And I'm hating myself 'cause you don't want to/Admit that it hurts you."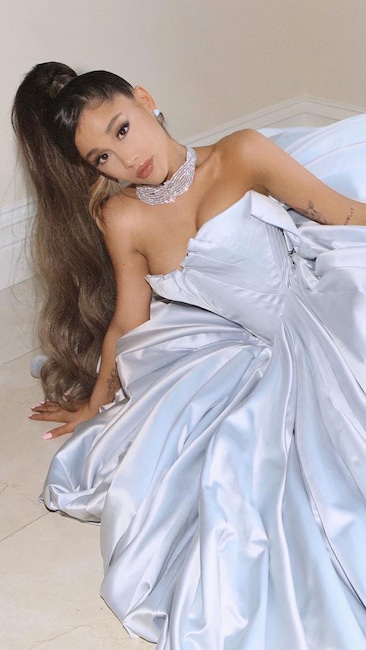 Instagram
February 2019

First Grammy. Grande won Best Pop Vocal Album for Sweetener at the 2019 Grammys, but was not in attendance at the ceremony. Grande was actually supposed to perform at the award show, but decided not to after a disagreement with producers. "F–k," she tweeted after her win. "I know i'm not there tonight (trust, I tried and still truly wished it had worked out tbh) and I know I said I try not to put too much weight into these things …. but f–k ……. this is wild and beautiful."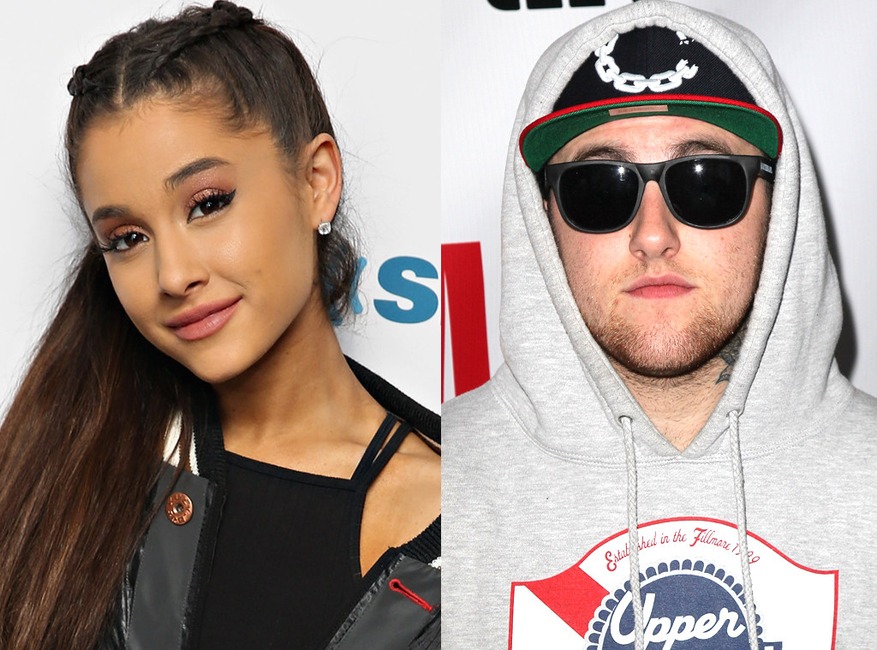 Cindy Ord/David Livingston/Getty Images
March 2019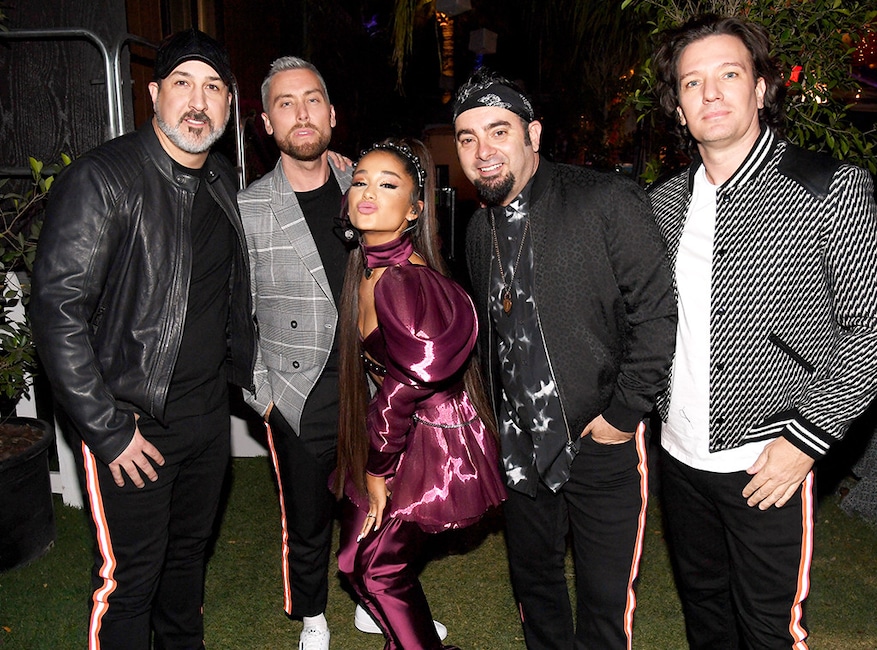 Kevin Mazur/Getty Images for AG
April 2019

Coachella! Grande headlined 2019 Coachella in April, with *NSYNC members JC Chasez, Lance Bass, Joey Fatone and Chris Kirkpatrick joining her on stage. Days later, Grande was named one of Time's 100 Most Influential People in the World.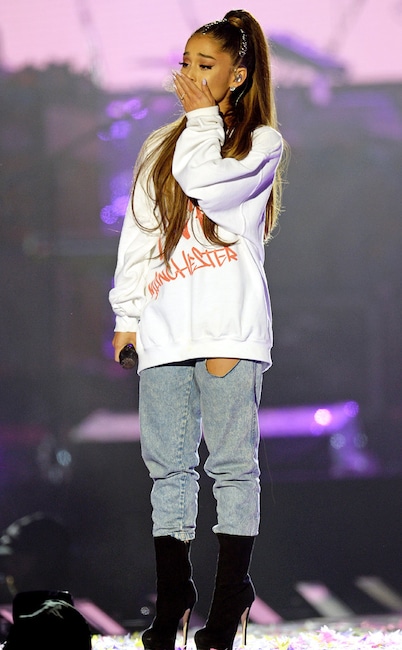 Getty Images/Dave Hogan for One Love Manchester
May 2019

A moment of remembrance. In May, the singer paid tribute to the city of Manchester on the second anniversary of the devastating bombing that took place in 2017. Honoring Manchester, Grande posted a bee emoji, a symbol of the hardworking city.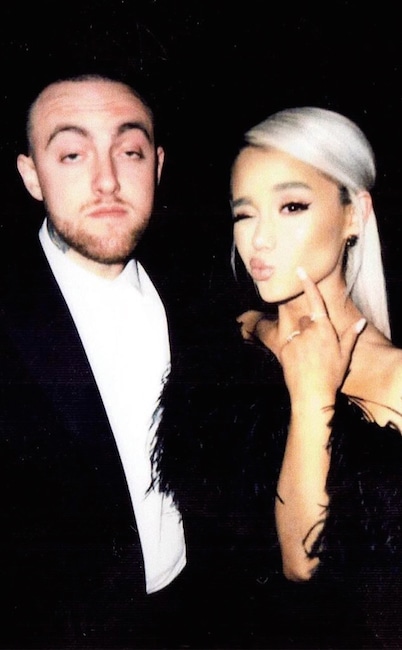 Ariana Grande/Instagram
July 2019

In Grande's cover story for Vogue, she talked about the many heartbreaking experiences she's faced in recent years. "I'm a person who's been through a lot and doesn't know what to say about any of it to myself, let alone the world," she shared. "I see myself onstage as this perfectly polished, great-at-my-job entertainer, and then in situations like this I'm just this little basket-case puddle of figuring it out…I have to be the luckiest girl in the world, and the unluckiest, for sure."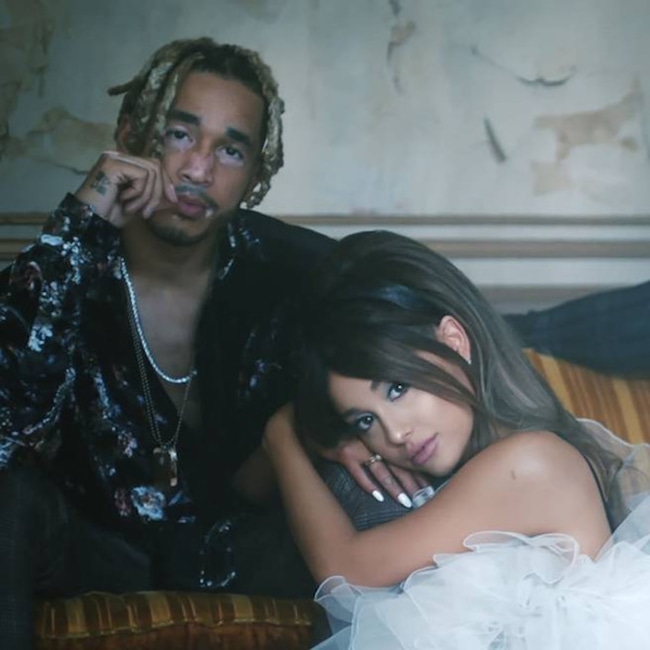 Twitter/Youtube
August 2019

A possible new romance. In early August, rumors started flying that Grande had a new man in her life, Social House artist Michael "Mikey" Foster, who Grande collaborated with on the track "Boyfriend." The duo sparked relationship speculation following the release of the music video for the song, which showed off their obvious chemistry.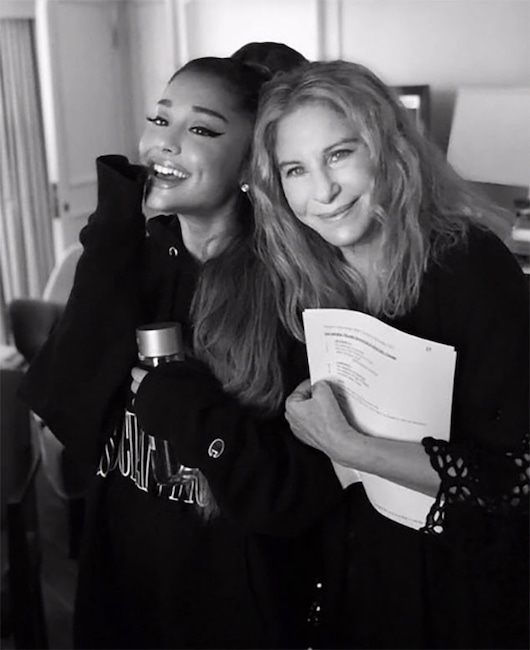 Instagram
August 2019

A dream duet. Grande surprised the crowd at Barbra Streisand's Chicago concert in early August when she stepped out on the stage for a duet. The dynamic duo sang the late Donna Summer's song, "No More Tears (Enough Is Enough)."
The 2019 MTV VMAs will air on Monday, Aug. 26 at 8 p.m.
Don't miss E! News every weeknight at 7, only on E!