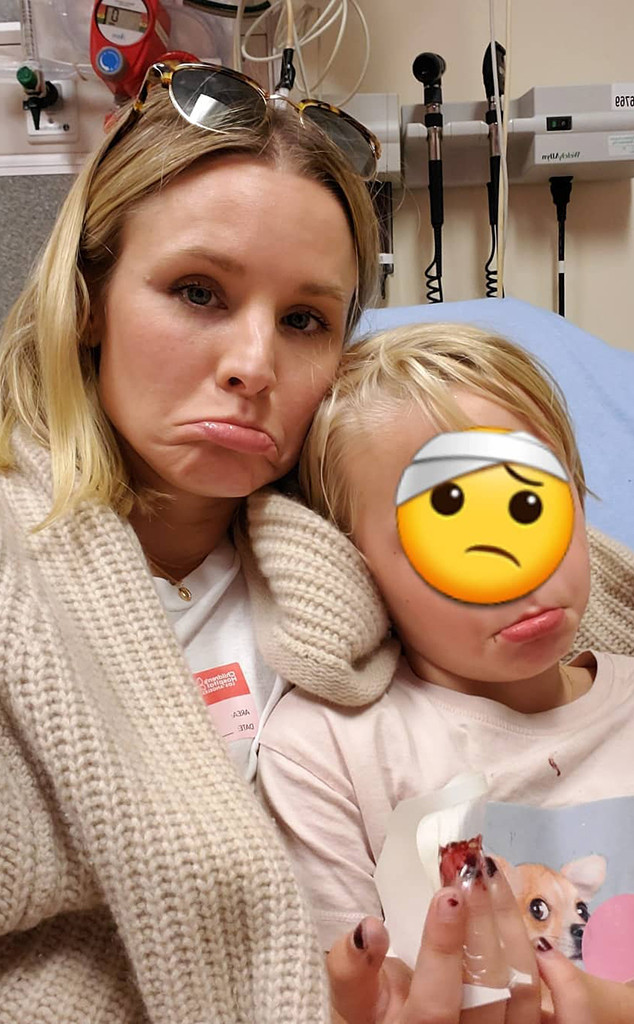 Instagram
Kristen Bellis looking on the bright side after a recent hospital visit.
The Veronica Mars star took to Instagram with details from her daughter's first emergency room visit, which she shared was made just a bit easier thanks to the staff at Children's Hospital Los Angeles. Bell, who parents 4-year-old Delta and 6-year-old Lincoln with husband Dax Shepard, said one of her little girls suffered a hairline fracture after her finger was "smushed so hard in the door it popped like a jelly donut."
Ouch. Luckily, Kristen and her daughter rushed to the ER right in time to get the treatment she needed.
"Thank you so much to @childrensla for the amazing care," the A-lister added. "Thank [you] Dr. Olsen, and Sonia our child life specialist. Did you know that when you enter the emergency room at @childrensla you immediately get a 'Child Life Specialist' trained to make sure your child knows what happening? And to make sure you understand all of what's happening and your choices? It made us feel so safe."
Kristen then said she decided to spare her 11 million Instagram followers from the sight of her daughter's injury, because as she put it, "There was literally burger popping out all over and it was pretty gross."
In other not-so gory news from inside Kristen and Dax's household, she kept it real yet again by recently sharing a photo of her sink filled with hair and teeth.
"FACT. It is only appropriate to find hair and fossilized teeth in your sink if: A. you are a serial killer or B. you are a parent," she captioned the admittedly confusing image.
Bell then added the following disclosure: "(Edit: for those confused by the teeth, they came from the pumpkin patch where you can 'mine' in the water and sand for either fossils or gem stones. Mom buys the bag, attendant dumps it in, and blam, your kid has found treasure. Both my kids chose fossils, so I have, like, A LOT of those teeth at my house.)"
Celebrity families, they're just like ours.