Getty Images; Shutterstock/E! Illustration
Giada De Laurentiis had no intention of entering into the family business of show.
By now, it's hard to imagine the Italian-born granddaughter of famed film producer Dino De Laurentiis as anything other than the Food Network fixture we've known her to be for the last 15 years, presiding over her ever-expanding empire from one authentic (or, some might argue, over-) pronunciation of prosciutto to the next, but when execs at the cable channel came a'calling, the Le Cordon Bleu-trained chef, who turns 49 on Thursday, August 22, had no desire to take them up on their offer.
"Because I come from a movie family," she admitted on Eater's Upsell podcast in April 2018. "I was like, 'What is Food Network?' First of all, Food Network wasn't what it is today. There were like three people on it, Emeril [Lagasse] being one, Bobby Flay maybe being the other…And so I was like, 'No, this has gotta be a prank, I'm not doing this, this is ridiculous, I'm not doing this.'"
After working in kitchens at Los Angeles' Ritz Carlton and Wolfgang Puck's famed Spago, she'd transitioned into the worlds of catering and food styling—"'Cause I had to make money," she explained—Food & Wine had asked her to craft a piece for them in 2002, giving the world their first taste of her family's many traditional recipes. It caught the eye of Bob Tuschman, the network's Senior Vice President, who wouldn't take no for an answer.
"He just called, just about every other day," she recalled of the year it took to get her to finally put herself on tape. "And would not let it go."
After a conversation with her brother, who volunteered to film the audition for her, she finally relented. "I nailed the tape, because I made a professional tape. I had music, I had an open, I had it all, like there was a whole open scene of me in the farmer's market, it was all choreographed," De Laurentiis said. "And I think for him, he was like, Bob was like, 'Holy cow, I've never gotten anything like this, ever.' The show was already alive."
Her first show for the network, Everyday Italian, debuted on April 5, 2003. It wasn't an instant hit. Viewers wrote the network, accusing them of hiring a model rather than a real chef. And De Laurentiis herself wasn't a fan, either. "Hated it," she said of the first season. "I'm like, 'I'm not telling you anything about myself, why should I share my family with you?' Yes, it was very difficult, I hated the first season. Hated it."
Over time, she learned how to be comfortable in front of the camera. And sixteen years and countless new shows later, she stands atop an impressive empire as one of the network's most recognizable faces. 
In the years since her debut, she's gone on to release a line of kitchen products, including pots and pans, utensils, and cooking tools, that was sold exclusively at Target, published nine cookbooks, and ventured into the restaurant business, opening her first, called GIADA, inside The Cromwell on the Las Vegas Strip. "Truly, Las Vegas is the only place I thought I could start a restaurant business, because I'm on television," she told Eater. "Where else am I going to be taken seriously? Not New York, not in L.A., right? It's entertainment and food, but that's what I do. That's how everybody knows me, entertainment and food, and that's my family history. So I thought no better place than Las Vegas. If I can make it in Las Vegas, I have a chance in other places. If I fail in Las Vegas, then I know that part is not for me."
The restaurant was an instant success, leading to a second venture, Pronto by Giada, to open in Caesars Palace in early 2018. Keeping herself in the Caesars family, she opened a third, GDL Italian by Giada, in the Horseshoe Casino in Baltimore, Maryland last May. And just this month, she announced plans to open two new restaurants within a new Caesars hotel set to open in Scottsdale, Arizona in 2021.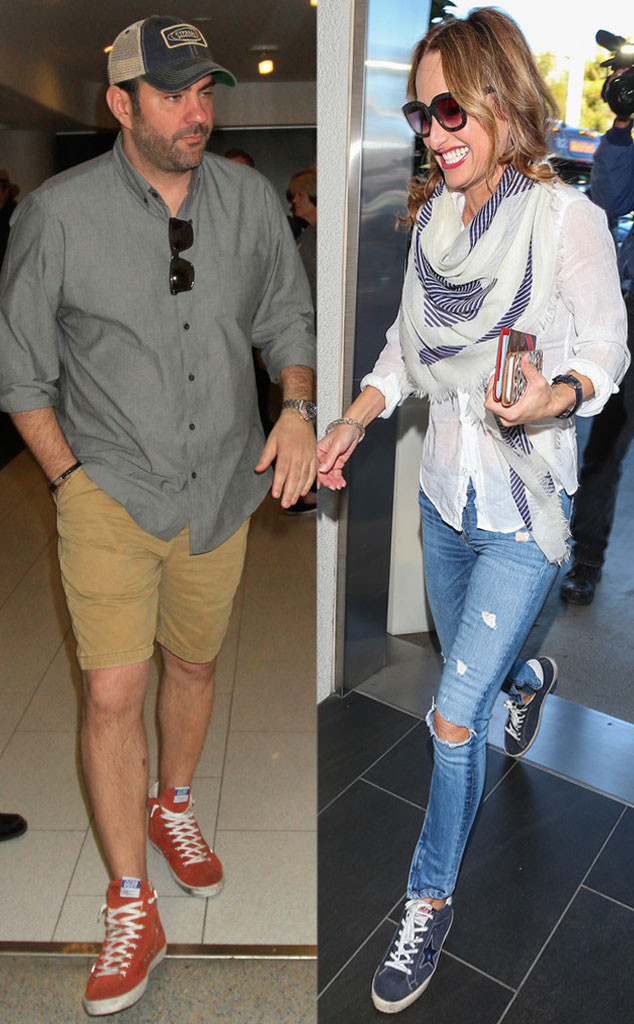 Splash News
De Laurentiis' career wasn't the only thing to begin in 2003. A month after Everyday Italian premiered, she married fashion designer Todd Thompson. The couple welcomed a daughter, Jade Marie, in 2008 before eventually splitting in 2014. "After an amicable separation since July, Todd and I have decided to end our marriage," she wrote on her website. "Although our decision to separate comes with a great deal of sadness, our focus on the future and overwhelming desire for our family's happiness has given us the strength to move forward on separate, yet always connected paths. Todd and I share a beautiful daughter and a lifetime of great memories that we both treasure more than anything. We are so thankful for our friends and family, and really appreciate the support in this time of change."
She didn't stay on the market for too long, however, as she began dating her current beau, TV producer Shane Farley in late 2015. After meeting in 2013 when he was hired to produce a talk show with De Laurentiis and Flay that never made it to air, she reconnected with him and sparks flew. "After I got divorced, I spent about a year and a half alone, not dating, just figuring things out. I had been with Jade's dad for 25 years. I didn't know what it meant to not be married," she told People in February 2018. "Once I got settled, [Shane and I] reconnected and I felt like a kid again."
"Giada is one of the most positive people I have ever met," Farley gushed to the publication. "She's warm and absolutely beautiful—what you see on the outside is there on the inside as well."
After agreeing to give Thompson their L.A. home in the divorce, De Laurentiis has gone about beefing up her real estate portfolio, first purchasing a $6.9 million home in the Pacific Palisades in March 2016. She followed up that purchase by dropping $4.86 million on a second home in the same neighborhood in August of this year.
And though she's already built herself an impressive nest egg, with her net worth estimated to be around $30 million, she shows no signs of slowing down just yet. Earlier this month, she signed a new "multi-year" deal with Food Network that consists of projects in both daytime and primetime. "I am excited to continue cooking and creating with my Food Network family," she said in a statement. "We are working on lots of fun new content and I cannot wait to share it!"
We're getting hungry just thinking about it.