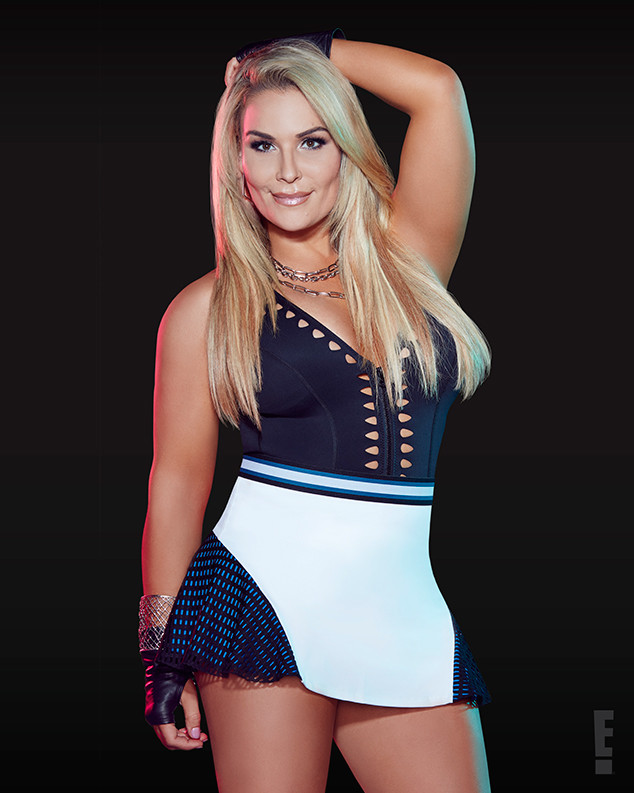 E!
A SummerSlam to remember!
On Sunday, WWE SummerSlam 2019 went down at the Scotiabank Arena in Toronto, Canada. Since WWE's best and brightest were in attendance, we knew the major wrestling event would be one for the books.
And, thankfully, we were right. From Kofi Kingston's face off against Randy Orton to Dolph Ziggler's match with Goldberg, SummerSlam was jam-packed with some major moments.
Oh and we can't forget to mention Total Divas star Nattie Neidhart (known professionally as Natalya)'s attempt to nab the Raw Women's Championship title from Becky Lynch. (More on that later!)
But those weren't the only highlights from this year's show. Scroll down to see our top five major SummerSlam moments!
1. Lynch Retains Her Championship Title
Looks like the home country advantage did nothing to help Natalya.
While the Total Divas star and third-generation Superstar brought her A-game into the Raw Women's Championship title match, she was unable to out-wrestle the reigning champ Lynch.
Yes, the Canadian crowd was initially on Natalya's side, but it didn't take long for Becky to win them over. After using techniques like, the Sharpshooter and a reverse Dis-Arm-Her, Lynch was able to achieve the tap she so desired.
Will this put an end to (once friends) Natalya and Becky's beef or is it just the beginning for these two?
2. Goldberg Puts Dolph Ziggler in His Place
Dolph Ziggler talks a big game. Yet, in the end, he was unable to defeat Hall of Famer Goldberg.
The face-off between these two at SummerSlam came about after Ziggler taunted Goldberg on several occasions and was tricked into taking on the 52-year-old living legend.
Ziggler's arrogance was front and center at the WWE event as, just before the match, he claimed that he was "the best damn thing to happen to pro wrestling." Ziggler was proven wrong after Goldberg demolished him in the ring with kicks, spears and a jackhammer move.
Looks like The Showoff got shut down.
3. Kofi Kingston Keeps His Title Thanks to a Double Count-Out
Kofi Kingston has been on quite a roll.
As fans surely recall, Kingston nabbed the WWE Championship title after a historic win against Daniel Bryan at WrestleMania 35. Understandably, since then the 37-year-old wrestler has fought hard to maintain his title.
And while Kingston kept his title at SummerSlam, he nearly lost it while facing off against Randy Orton. Kingston and Orton each had some big moments during the match. Yet, the face-off was brought to an end thanks to a double coun-out.
This ending occurred not long after Orton talked trash to Kingston's children. We have a feeling that these two will battle it out again soon.
4. Bray Wyatt Debuts Terrifying New Character
Ladies and gentlemen, we're pleased to introduce you to The Fiend.
As the new masked persona is a frightening one to behold, it was only right that Bray Wyatt entered the ring to a Marilyn Manson-esque remix of his old "Live in Fear" theme song.
While The Fiend's opponent Finn Balor tried his best to fight off Wyatt's new monster, he was unsuccessful after the latter pulled out many intense moves, one being a terrifying neck-twist.
It's safe to say that The Fiend is the stuff of nightmares.
5. Seth Rollins Is the Beast Slayer
Seth Rollins is now the Universal Title holder.
Prior to SummerSlam, fans were worried about Rollins' scheduled match against Brock Lesnar. Why? Well, because Lesnar (known as The Beast) had given Rollins a rib injury in a previous match.
Although Rollins took many hard hits from Lesnar during their SummerSlam battle, the 33-year-old wrestler was able to power through and dethrone The Beast.
Congrats, Seth!
What was your favorite SummerSlam moment?