"I don't think it will be Jed."
That's basically the only thing Bachelor Nation can know for sure as they anxiously await the official announcement of who will be the star of The Bachelor's 24th season, premiering in 2020. 
While Robert Mills, ABC's Senior Vice President, Alternative Series, Specials & Late-Night Programming, wasn't exactly shocking anyone when he said Hannah Brown's ex-fiancée Jed Wyatt wasn't in the running after it was revealed he had a girlfriend when he went on The Bachelorette, he did offer insight into the decision-making process ABC, Warner Bros. and the Bachelor team goes through each season when choosing their next lead. 
When he spoke to E! News following Hannah's explosive After the Final Rose special, he confirmed three men from her season who are at the top of the list: Mike Johnson, Peter Weber and Tyler Cameron. 
"We listen to what people want to see," Mills said, going on to amend that Tyler C., the fan-favorite runner-up, is "a wild card" after a love triangle no one expected but now can't get enough of has formed between him, Hannah and supermodel Gigi Hadid. 
While it's still too early to tell who will ultimately end up receiving the producers' final rose, a source told E! News that Peter, the 28-year-old fan-favorite pilot, is the current frontrunner. 
"Peter has always been their guy," our insider shared of Peter, Hannah's second runner-up and the contestant she infamously revealed she slept with in a windmill "four times" during the AFTR special. "He's older, he has a career and he has a great backstory. He can definitely carry a show."
However, Mike, 31, seems to be hot on his heels, and his upcoming debut on Bachelor in Paradise could ultimately swing the vote in his favor.
"I think they're going to let Paradise play out and see what the reaction to him is," our source shared.
Because The Bachelorette goes into production just a week after The Bachelor ends the lead is often picked as the season is airing (Remember when Rachel Lindsay was announced as season 13's lead when she was still a frontrunner on Nick Viall's season?), producers have the luxury of time to make their decision when choosing their next leading man.
And since 2014, they've also been given another unexpected tool in their decision-making process: Bachelor in Paradise, the hit spinoff that has now produced two Bachelors: Nick Viall, completing the ultimate redemption story after two runs on The Bachelorette as a villain, and Colton Underwood, whose emotional storyline on BIP proved too compelling to resist continuing.
"Paradise has gotten so big. It's gotten to be such a huge franchise. It's a needle-mover. Before it wasn't such a huge deal. We didn't need to wait to see what happened on Paradise," host Chris Harrison recently told E! News. "But now, Paradise is such a huge franchise, we kinda need to see what effect that has on the audience and on some of the guys that are there."
What once was an island of misfit night-oners and f–kboys is now a breeding ground for leading men (and also a potential mouse-trap, as many one-time Bachelor contenders have seen those dreams dashed thanks to their behavior on BIP, like Dean Unglert and Blake Horstmann, whose drama is currently unfolding on season six and on social media.)
Because Mike was eliminated earlier than the rest of the Bachelor candidates from his season, he was able to appear on Bachelor in Paradise and it still gives him the advantage of additional exposure.
There are a few contestants producers are keeping an eye on to gauge how the viewers respond to them, hoping to possibly call an audible like they did when they announced Nick as the Bachelor at the end of Bachelor in Paradise season three, a move no one saw coming. 
"I'd keep an eye on John Paul Jones, I'd keep an eye on Derek [Peth]," Mills teased, though a source told us they are long-shots. 
When the Bachelor team is making their decision, fan response is just a small piece of the puzzle that is picking the next lead, because, you know, they are making a TV show at the end of the day, not hoping for likes on a tweet announcing their guy. 
"It's a combination of not who everybody wants in the moment and thinking this is it, but also seeing OK, who can really carry 20-22 hours on their back," Mills explained. "It's hard. You have to be there and it's not necessarily bad, it's certainly not for everyone. That's really the hardest part."
if the decision was made purely based on social media popularity and the decimal level their entrance onto a stage reaches, the clear frontrunner would be Tyler, who has already hit 2 million followers on Instagram, making him the the most followed male cast member in Bachelor Nation. After the applause eventually died down after he walked into the After the Final Rose special, Harrison compared the 26-year-old to the Beatles. 
"He's definitely up there, if not in the top three then definitely the top five," Mills said of Tyler's ranking of the franchise's most beloved contestants ever. 
Sure, followers can get you that SugarBear Hair endorsement deal, but it can't land you the job, according to Mills, who insisted social media followings don't factor in for the powers that be. 
"That's only going to get you so far. If [viewers] are not into it, they're not into it," he said. "It is the OK, is Tyler…you certainly don't say, 'I hope Hannah doesn't ask him out because he'd be a great Bachelor.' That would be selfish, but I think you look at all those things. Is Tyler somebody everyone can engage with for 20-some-odd hours."
And then there's Gigi Hadid. 
After Hannah revealed she had ended her engagement to Jed Wyatt and was now "a single girl," the Bachelorette flirtatiously asked Tyler out for a drink at the end of the After the Final Rose special, Bachelor Nation went wild when E! News exclusively reported he had spent the night at Hannah's house just days later. (Photos of Tyler making his morning exit after their sleepover soon followed.) 
"Tyler got to Hannah's place around 9 p.m. and they stayed in," a source told us. "He spent the night with her and left this morning after 10 a.m. She walked him out to his car and they hugged and kissed. He had an overnight bag and they looked very happy together."
So it was on like Donkey Kong, right? Well, not so fast…after returning to New York City, where he is currently living, Tyler was spotted grabbing a drink with the supermodel, who was previously dating Zayn Malik. 
"Tyler and Gigi actually have a few mutual friends in the modeling industry, but met on Instagram. She knew of him before he got any wind of fame from the Bachelorette," an insider told us. "Gigi is definitely interested in Tyler. They met for drinks last night at Soho and they got along really well. It was very casual but they were laughing and had a very engaged conversation."
It wasn't the only time the two models were spotted together, as they went on a bowling date the following night. 
So where does he stand with Hannah?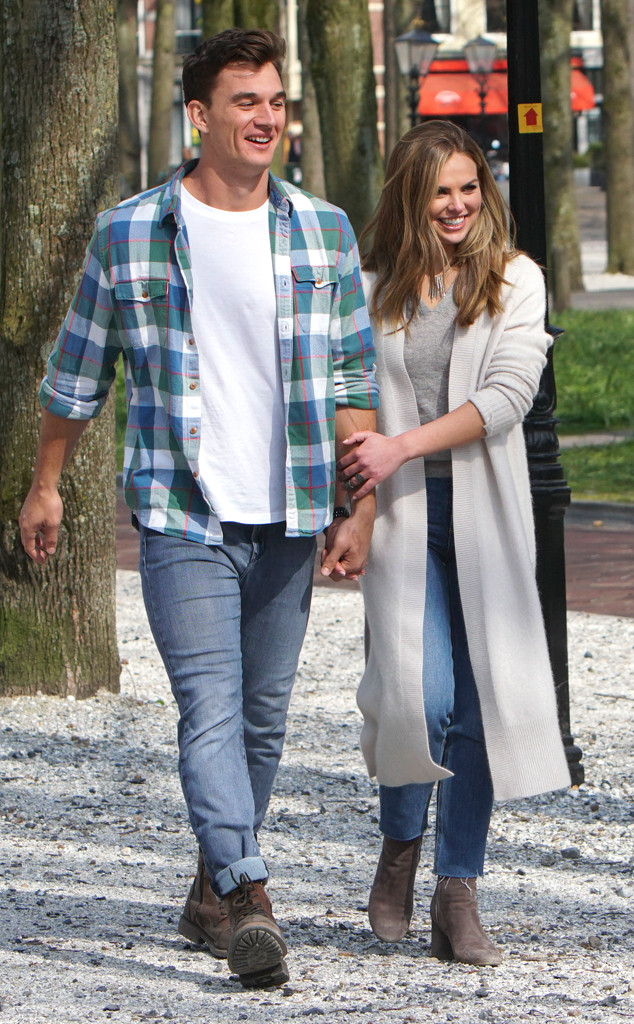 ABC/Mark Bourdillon
"Tyler saw Hannah in LA and they had a good night and a good talk. But it's probably not going to amount to much right now," a second source spilled. "She moved to LA and he doesn't live there. They agreed to keep talking, but that's it for now. It's geographically challenging."
But before calling this an official love triangle, the source said, "Tyler is single and is going to date around. He's definitely not tied to Hannah or picking up where they left off on the show. He's having fun and not taking anything seriously. He's getting a lot of attention right now and is just going to see what happens."
When Chris Harrison visited E!'s Daily Pop, he said it wasn't "shocking" that Tyler was enjoying himself. 
"He's young, he's single, he's good looking and living in New York," Harrison shared, adding, "Good on him! He's not committed anywhere so that's great. Have all the playdates you want."
They just probably won't happen in front of ABC's cameras as the Bachelor, as Mills said they are looking for a lead who is serious about finding someone (proposal or not).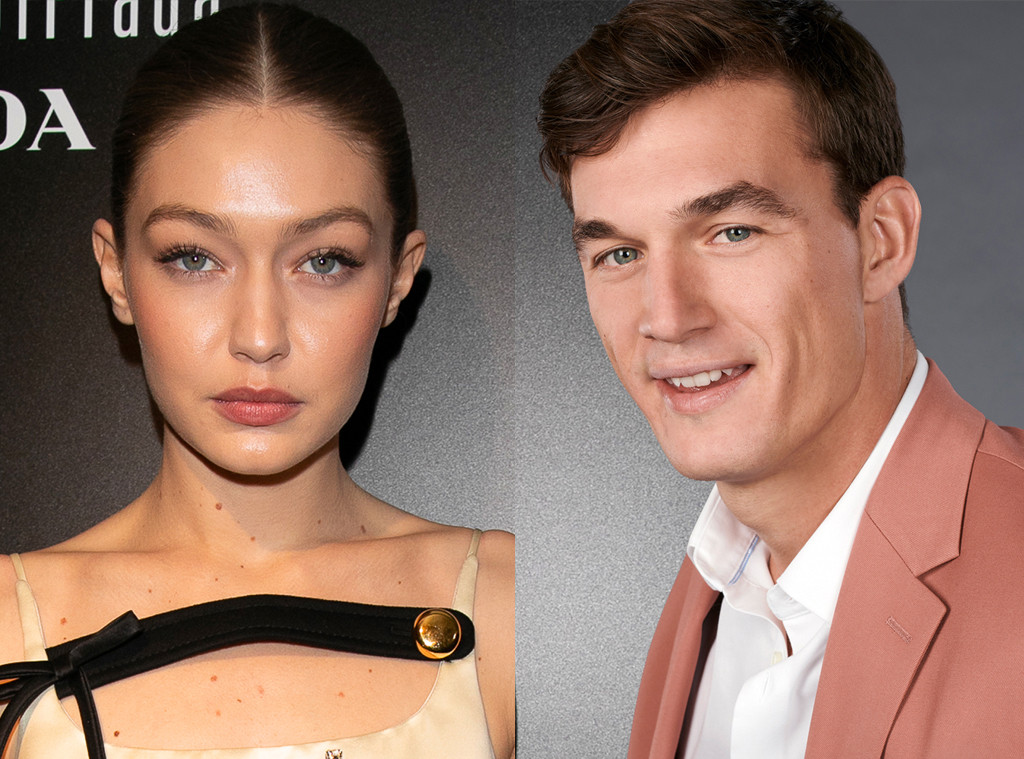 Marc Piasecki/Getty Images; ABC
Not helping his case is Hannah admitting she has some "beef" with Tyler's recent public dates with Gigi, and when she was who should be the next Bachelor on the Bachelor Happy Hour podcast, she said Peter or Mike. 
As for Tyler, she responded, "I mean I think he is, uh, um…I mean I think he likes to date around, so maybe he would be a good Bachelor."
And our insider is pretty confident Tyler is out of the running.
"First of all, they never would have let Hannah publicly ask him out on a date if they were interested in him as the Bachelor," the source explained. "Now, with the Gigi addition, he's become way too high profile. Viewers won't buy into him as an earnest single guy ready to get married."
But a compelling contestant does not a lively lead make. Just ask Arie Luyendyk Jr., who went from beloved runner-up on Emily Maynard's season to polarizing Bachelor five years later.
Many leads have talked openly about how physically and emotionally demanding being the Bachelor or Bachelorette is and not only being responsible for you feelings but also the feelings of 25 (or more) suitors. And on top of that, you need to talk about your feelings articulately and openly. All the time. You're the main character and the narrator at all times, driving the limo you're also supposed to be sitting in the backseat of enjoying. 
"I'm grateful. I truly am grateful for even being in the question," Mike told us at the Men Tell All special. But on a very serious note, I would need to make sure that all 30 contestants, if I were to be the Bachelor, are there for the right reasons to find love."
(One person who might come out of the limo on night one if Mike is the next Bachelor? Demi Lovato, with the pop star expressing her interest in the contestant on social media, even attending the After the Final Rose taping.) 
Not only does Mike have a large fanbase (which includes many Bachelor Nation alum), the portfolio manager from Dallas would make history, becoming the franchise's first black Bachelor in its  17-year-history. The choice would be historic and long overdue, with the reality hit only having their first black lead when Rachel Lindsay was picked in 2017.
"I will say this: I do think that the show has worked hard to increase diversity in its casting and is continuing to evolve, and I think, as that evolves, you will just continue to see more diversity from the franchise going forward," ABC president Karey Burke said at the 2019 Summer TCA Press Tour when asked about the lack of diversity among the franchise's leads. 
Casting for the next season's contestants officially kicked off this week, with Mills saying, "Who are the women who are coming in interested in? Who do they want to see? That is a big piece of the puzzle as well."
Until the announcement is made, likely at the end of Bachelor in Paradise's run, the debate will rage on–both on social media and among the Bachelor team. 
"People have to realize it's a debate," Harrison told E! News. "We're always going at it…give us time, the debate will rage on…"
Don't miss E! News every weeknight at 7, only on E!