This list of middle grade books about dragons is sponsored by Houghton Mifflin Harcourt Books for Young Readers, publisher of Spark by Sarah Beth Durst.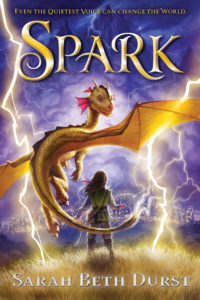 When a shy girl and her dragon-like companion discover their country's idyllic weather comes at a steep—and secret—cost, they recruit fellow students to defy authority and attempt to spread the truth.
---
We all love dragons, and there are plenty of books out there that promise to take us on an adventure alongside our fire-breathing friends. From Harry Potter to Game Of Thrones, dragons really are the perfect companions for all ages.
But dragons are not just figments of our imagination. They are also rich in our history. Coming from the land of the red dragon, I'm so excited about the influx of middle grade books about dragons we've had recently. From Chinese folklore to Welsh mythology, you can be sure to fly high with these ten roarsome middle grade books about dragons!
The Dragon With A Chocolate Heart by Stephanie Burgis
This reverse middle grade fantasy novel is the first book in the Tales From The Chocolate Heart series. Aventurine is a fierce dragon who sets out to prove to her family that she is capable of capturing their most dangerous prey: humans. When she is tricked by a human into drinking enchanted chocolate that transforms her into a young girl, she decides to embrace her new identity and passion for chocolate by pursuing an apprenticeship in the chocolate-making business. But she soon discovers that chasing your dreams is never as easy as it seems.
The Tea Dragon Society by Katie O'Neill
This graphic novel introduces readers to Greta, an apprentice blacksmith, who rescues a little dragon from the marketplace. When Greta goes to return the dragon to its owners, Hesekiel and Erik, she becomes immersed in the world of tea dragons. Greta soon joins the tea dragon society, alongside Hesekiel, Erik, and a young girl called Minette, taking care of the tiny dragons that grow herbs alongside their horns, which are then used to make tea.
Where The Mountain Meets The Moon by Grace Lin
Minli is a young girl who lives in the valley of Fruitless Mountain. By day, she and her family work the fields near their home and struggle to get by. By night, Minli is transported to another world as her father weaves fantastical tales about the Jade Dragon and the Old Man of the Moon. Inspired by Chinese folklore, the novel follows Minli as she embarks on a quest to improve her family's fortune by seeking out the Old Man of the Moon. Along the way, she encounters magical creatures, including a dragon, as if to prove that her father's stories are real after all.
The Dragon In The Library by Louie Stowell
This is a fast-paced adventure about the importance of books, reading, and libraries, told from the perspective of a young girl who can't stand reading and would much rather be outside jumping in muddy puddles. It's the start of the school holidays and Kit is dragged along to the local library with her two best friends…only to discover that it is run by wizards! When someone threatens to tear down the library, and thereby disturb the magical forces beneath it, Kit and her friends must come together to save the world, one book at a time.
Dragons In A Bag by Zetta Elliot
When Jaxon's mother goes to court to fight an eviction notice from their Brooklyn apartment, he is left under the care of her Ma, the grandmother he has never met before. But Jaxon quickly discovers that the mean old lady isn't his grandmother but a witch, and she needs help delivering baby dragons to a magical world where they'll be safe. If he's up for the challenge, Jaxon and his friends must promise to never let the dragons out of the bag or feed them anything sweet. But promises are just made to be broken, and soon enough the fate of the dragons lies in jeopardy.
Silver Batal And The Water Dragon Races by K. D. Halbrook
Set in a vivid world inspired by Arabia, this middle grade fantasy adventure follows a young girl who harbours a forbidden wish. Although she calls the desert home, Silver Batal's heart belongs to the waters and her desire to race water dragons. When a mysterious woman introduces her to Hiyyan, a dragon that can swim and fly, Silver and her cousin Brajon must risk everything to venture to the royal city, Calidia, in order to compete in the legendary water dragon races.
Ice Wolves by Amie Kaufman
Everyone knows that the ice wolves and scorch dragons are bitter enemies, including Anders and his twin sister Rayna. When the twins are accidentally tested to see if they have the wolf blood necessary to train as a Wolf Guard, Anders takes one elemental form whilst Rayna transforms into another. As orphans, the only family they have is each other. But as Rayna flees with the scorch dragons and Anders joins the Ulfar Academy for ice wolves, where loyalty to his pack is valued above all else, those familial ties are tried and tested.
Rise Of The Dragon Moon by Gabrielle K. Byrne
This middle grade fantasy follows Princess Toli, heir to the throne of a frozen kingdom that lies at the mercy of the dragons which killed her father. When the dragons return to seize her mother, the Queen, Princess Toli must befriend a young dragon in order to save her. Along with her sister and her best friend, Toli is forced to make the treacherous journey across the ice to Dragon Mountain before the dragons can destroy what's left of her family.
The Land Of Roar by Jenny McLachlan (September 5th 2019, Egmont)
When Arthur and Rose were little, they were heroes in the Land of Roar, an imaginary world filled with dragons and mermaids and adventure. To get there, they would climb through the folding bed in their grandad's attic. Now the twins are 11 and they know Roar was just make-believe. But when Grandad gets pulled into the folding bed as they're cleaning out the attic, the twins are horrified and must become the heroes they once were in order to save him.
The Dragon Warrior by Katie Zhao (October 15th 2019, Bloomsbury)
Inspired by Chinese folklore, this upcoming middle grade novel follows Faryn Liu on her quest to become the fabled Heaven Breaker, a powerful warrior who serves the all-mighty Jade Emperor by commanding an army of dragons. As members of the Jade Society, Faryn and her brother Alex have been shunned and forced to train in secret since their father's disappearance many years ago. To fulfill her destiny and prove her worth, Faryn must set off across the Chinatowns, with Alex by her side, to find the island of the immortals before the Lunar New Year.
---
For more middle grade books about dragons, check out our round-up of dragon series for young readers!
By signing up you agree to our Terms of Service
We're giving away five copies of Leslie Jamison's new essay collection
Make it Scream, Make it Burn
.
Click here to enter
, or click the image below!