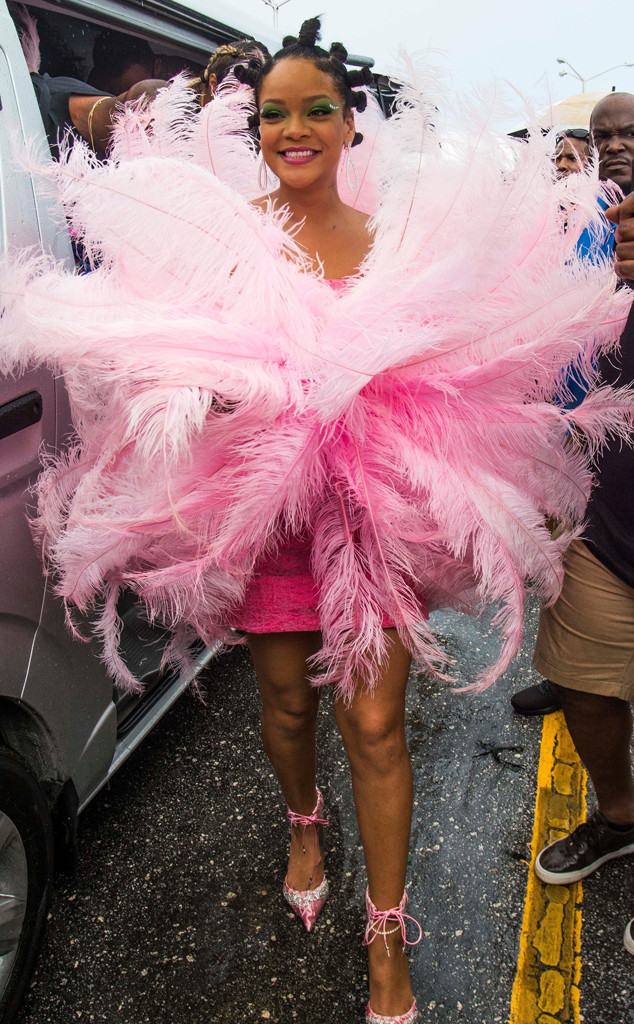 Islandpaps.com / BACKGRID
Rihanna is work, work, work, workin' it at the 2019 Crop Over Festival.
On Monday, the fashion and beauty mogul proved (once again) why she reigns supreme at the annual celebration, which takes place in her home country of Barbados. The three-month long fest ends in August with a larger-than-life carnival parade called Kadooment Day. But before it came to a close, Bad Gal Riri blessed fans and festival-goers with an over-the-top pink feathered dress that she paired with glitzy pink strappy heels, dazzling jewelry pieces and bedazzled sunnies.
It was a lewk, honey!
Making her outfit pop even more, the "Love on the Brain" singer donned vibrant neon green eyeshadow, hot pink lipstick and body jewelry stickers that she placed on the outer corners of her eyes. As for her hair? She styled it in bantu knots.
All around, the 31-year-old star's ensemble was a total knock-out!
In addition to her pretty in pink moment at this year's Crop Over fest, Rihanna has been stopping traffic with jaw-dropping ensembles over the years. To see all of her carnival lewks, scroll through our gallery below!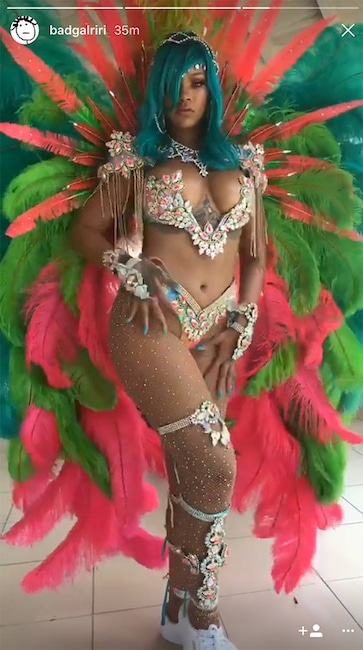 Instagram
Strike a Pose

Serving bawdy and face, the Fenty founder poses for the camera in her vibrant festival look. From her colorful feathers to her teal hair to the holographic jewels, Rihanna certainly outdoes herself with this get-up.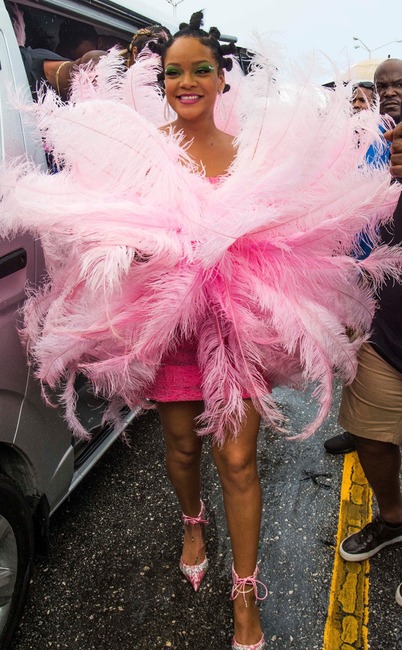 Islandpaps.com / BACKGRID
Pretty In Pink

Let's all take a moment of silence for this show-stopping ensemble. The Fenty Beauty founder rocks a larger-than-life pink feathery dress, sparkly pink heels, statement jewelry pieces and bedazzled sunglasses.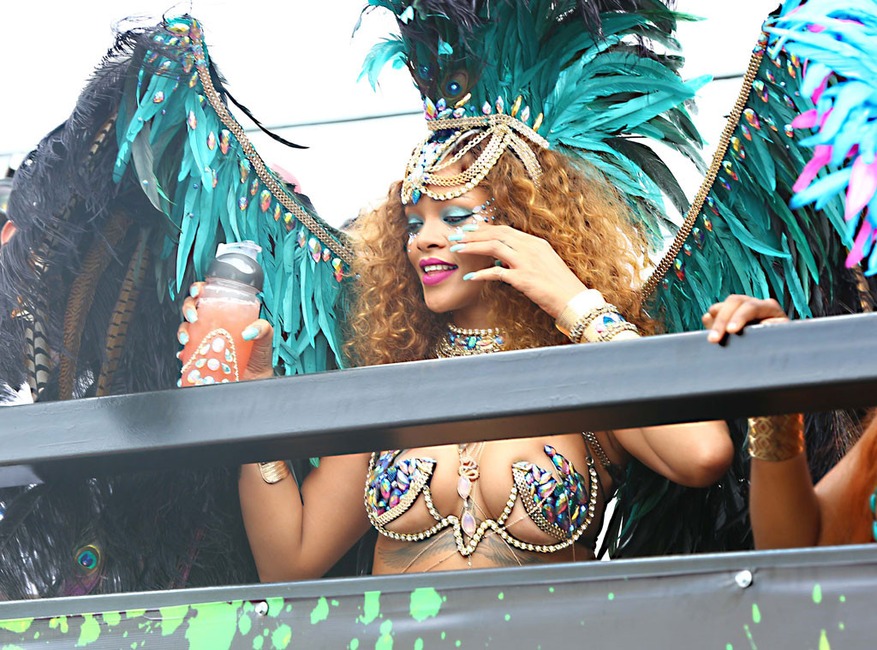 PRIMADONNA/GEMAIRA/Splash News
Royal Blues

The "Love on the Brain" singer shows off her colorful ensemble and makeup look at the 2015 celebration.
SplashNews.com
A Feathery Dream

This outfit is so good, we need to see it from all angles! The "Diamonds" singer adds a pop of color to her ensemble by wearing a vibrant makeup look—she rocks neon green eyeshadow, hot pink lipstick and body jewelry stickers (that she put on the outer corners of her eyes).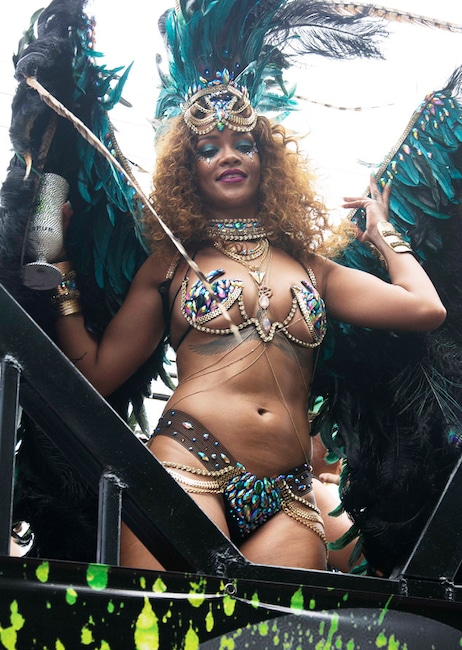 Shanice King/Islandpaps
Peacock Fashion

Riri pulls out all the stops for the 2015 celebration! Her larger-than-life peacock-colored feathers, rhinestone-encrusted bustier and bottoms are hypnotizing!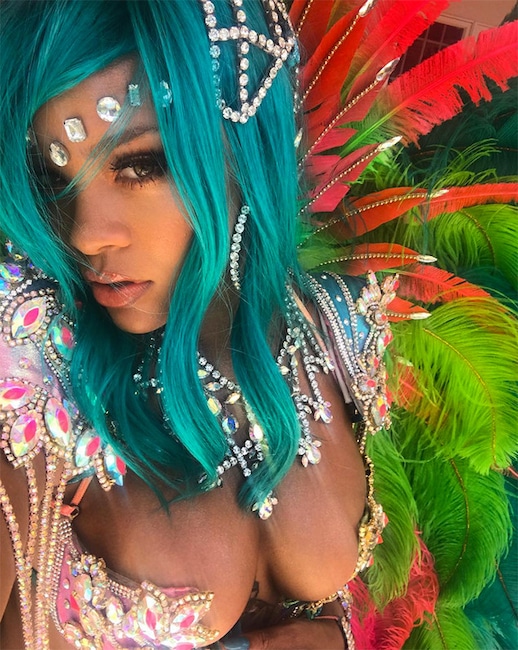 Instagram
Serving Lewks

Fun fact: Rihanna secretly wears an unreleased Fenty Beauty product during the 2017 festival. We stan a makeup queen who tests her products in the heat!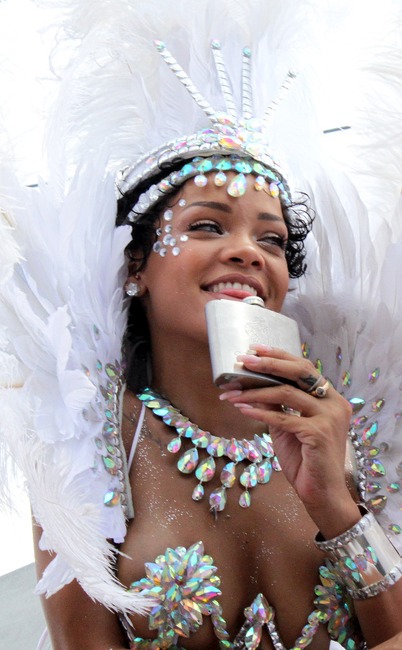 Splash News
A Vision in White

The fashion mogul brings the glitz and the glam to the 2013 festival with this all-white beaded ensemble.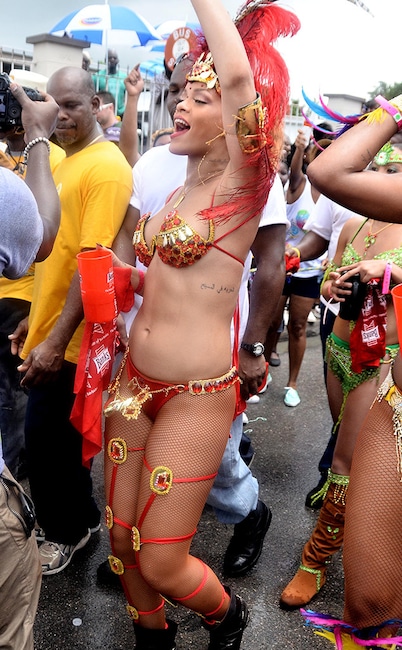 SplashNews.com
Red Hot, Hot, Hot

Rihanna shows off her fiery side with this red hot ensemble at the 2011 festival.
We can't wait to see what she slips into next year.