Since the 2011 FIFA World Cup defeat, the American Samoa team has yet to net a single goal. But with the appointment of their new coach, Thomas Rongen, hopes are high for a triumphant turnaround.
This heartwarming film delves into the team members' lives, including Jaiyah Saelua. A 2014 documentary previously captured her story, and now Taika Waititi directs its compelling retelling in a Searchlight Pictures film.
Saelua talks fa'afafine identity & trans representation in sports
Ahead of Next Goal Wins' release, we connected with Saelua to capture her immediate response to the movie.
"So many different emotions because I did understand that a Hollywood feature film has the power to amplify our story," she told Gayety. "So anxiety, even just having people opening up our story to a much wider audience in the world where we could go either way, we could be criticized, joked about, or we can be celebrated, all those wonderful things. But I was prepared for the experience that this movie was going to take me on."
Saelua's role in the game is also a groundbreaking moment in LGBTQ+ athlete history. FIFA considers her the first out transgender woman to compete in a World Cup qualifier. The film also dives into her fa'afafine identity, which is a well-recognised third gender in Samoa. Fa'afafine means "in the way of a woman."
The Truth Behind the Movie
Saelua was stunned by the pivotal role her story played in shaping the film's overarching narrative. Though the movie is a dramatization, she said many of the experiences seen on screen are experiences she too went through. They are just being recreated by Kaimana.
"[I was] pleasantly surprised by the fact that Kaimana, who plays Jaiyah, was given one of the more lead roles and is highlighted even. And the fa'afafine identity, the sensitivities of the fa'afafine identity is highlighted and portrayed so beautifully as said by one of the coaches, fa'afafine, the Flowers of the World and things like that. Those are nice little surprises of the film that I really appreciated. And then also the harsh realities of the trans identity and trans experiences that we face."
Saelua, now a coach and FIFA ambassador for equality and LGBTQ athletes, said she hopes this representation will help encourage equality in the sports world.
"There was such groundbreaking progress over the past few years, and then all of a sudden the conservative narrative started to get brave and aggressive and took over.
"It feels like we take one step forward to take two back. And the bad thing about that is that it becomes intergenerational. And by the time we take two steps forward or one step forward, a whole generation would've already felt the effects of the mistakes of the past. It just feels like an uphill climb… to just exist in spaces that are sports."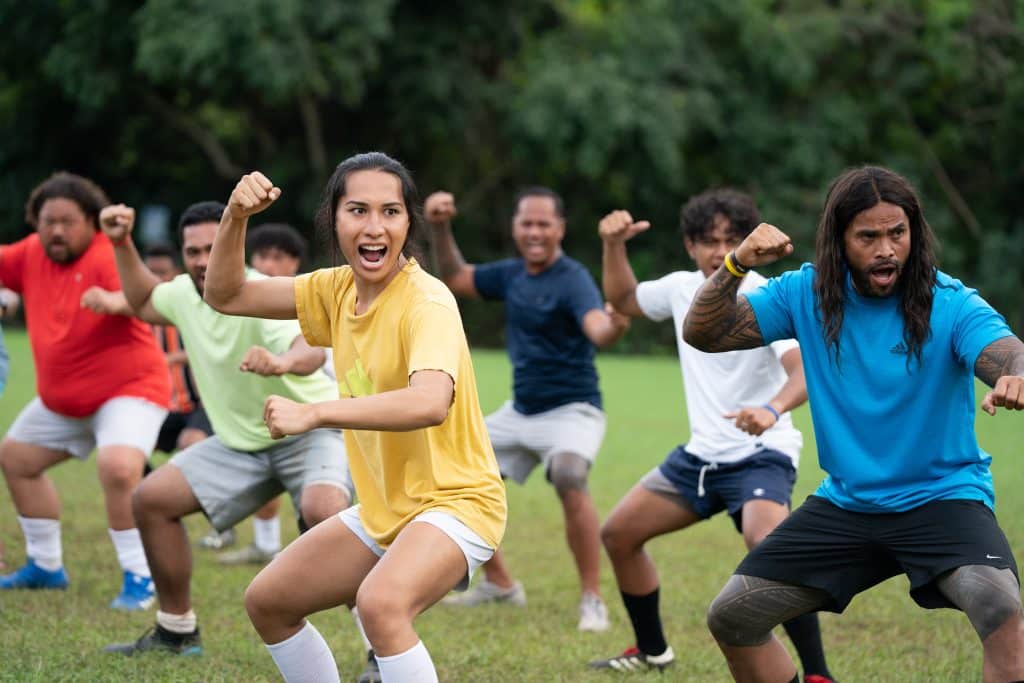 Related | 45 of the Gayest Moments in Sports History
A Love For the Sport
Saelua first played football at 11 years old in her private school and cannot imagine her life without the sport.
"We took the championship title that first year in competition. I was named the most island wide, most valuable player of the league," she recalled. "Also at that grassroots level, it's a mixed team. It's a boys and girls team versus the boys and girls team. So the innocence of it, the purity of football at that level resonated with me at a young age, and I just immediately was so drawn to it. And from that point on, I just couldn't see myself not being involved in football.
"Even up until now, after playing for the national team for more than 20 years and thinking of retiring, I already have a plan to still be involved in football."
The 35-year-old athlete has taken courses with FIFA to continue to coach a women's national team after she retires.
"I feel like all these sports organizations can take a look at if they just take a look at FIFA and the steps that they're making to be more inclusive of more diverse groups of people around the world, making sure that football is more accessible, more available to different demographics, and the steps that they're taking to make it more diverse, just simply makes it more of an appealing sport. And all the sports have the opportunity to grow in the world if they would just be more diverse."
Next Goal Wins is now playing in theaters.
Next Goal Wins has also partnered with creative studio Accompany: The Fa'atasi Collection, which celebrates the Samoan spirit of community and the fa'afafine.
The assortment showcases exquisite pieces adorned with original artwork by fa'afafine artist Yuki Kihara. Highlight items comprise a hand-painted soccer ball and a set of athletic socks, commemorating the third gender. Shop the items here.
More Stories:
Exclusive: Trans Soccer Star Jaiyah Saelua Brings 'Fa'afafine' Identity to 'Next Goal Wins'