Below Deck Mediterranean is back for its eighth season, and there's already drama aboard the superyacht Mustique. While we're only one charter down, and the crew seems to have been getting along just fine, there's been a lot of smoke and mirrors to hide the realities of Captain Sandy's problems.
First, her bosun had to be sent home for supplying phony documents. He says he got scammed. Then, nobody was available for two weeks to fill the bosun position. Fortunately, Luka is on board and came highly recommended by Captain Jason Chambers after his stint on Below Deck Down Under.
Crisis averted. But with a new day comes new challenges. The biggest appears to be on the way, as this season's chief stew sorts out her visa issues and arrives, ready to take over. Enter Tumi. Here's everything that happened in Below Deck Med Season 8, Episode 2: "Two Many Cooks."
Americans need to stop inventing new styles of egg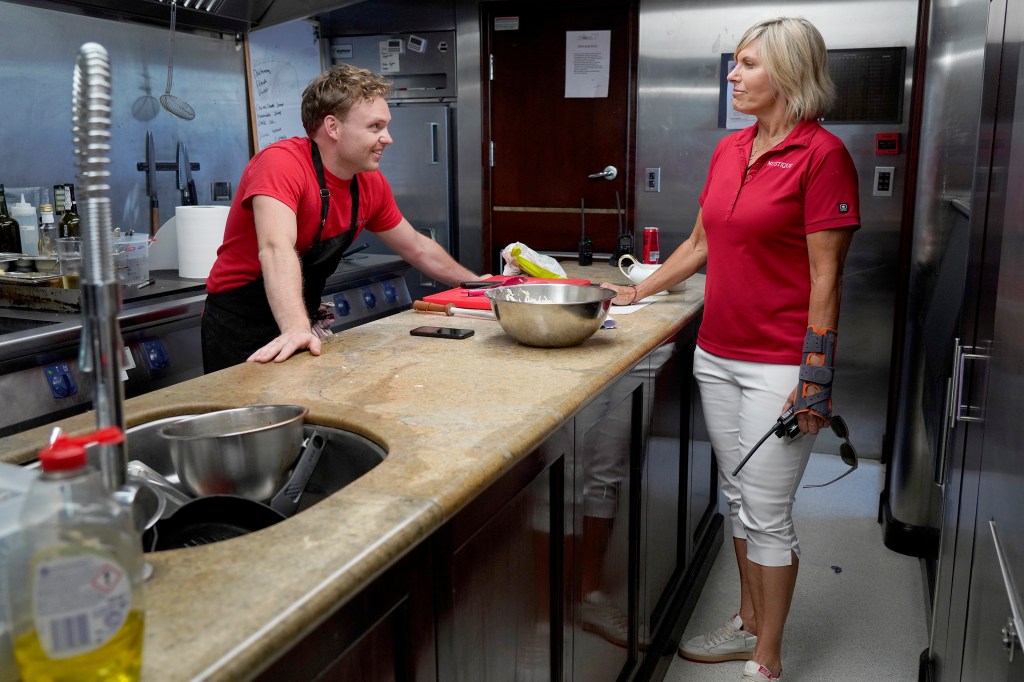 It's day two of the first charter, and the guests have appeared pretty low maintenance. That façade disappears when they ask for different styles of eggs for breakfast. Chef Jack thinks you either want your egg "runny or hard," and honestly, he has a point. I'm not siding with him on saying breakfast is a waste of time, though. I like starting my day with a hearty meal. It makes the first few hours that much easier to get through. With the addition of caffeine, of course. While the guests give a little bit of negative feedback to Natalya, she tells Jack not to worry. "Americans invent new egg styles every day," she quips.
With breakfast finished, the guests want to head back to the port. A couple of them are struggling with seasickness due to the high winds. When Luka gets them on the tender, one asks for a bag to vomit into. As this is a 10-minute boat ride, not an airplane, he tells him he'll have to leave his breakfast overboard. That he does for the entire journey. The editing team also went overboard with their usage of vomiting sound effects. My own lunch nearly left my stomach, having to hear the repeated retching.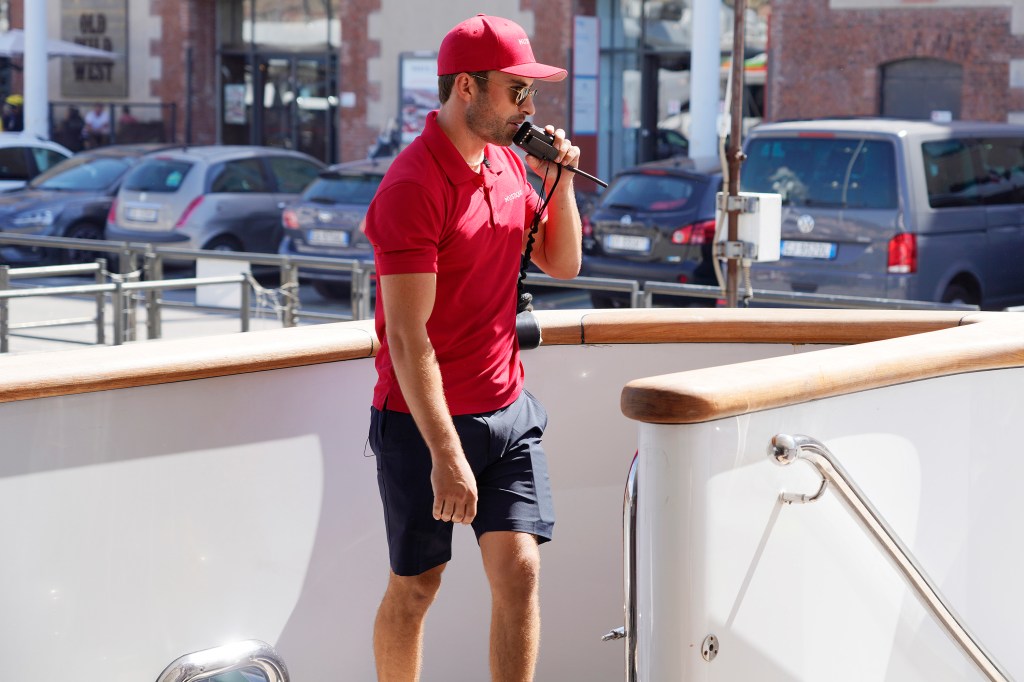 Captain Sandy gets an update on the potential deck crew. While there still aren't any bosuns available, an experienced deckhand is open to work. Impressed by Luka's initiative so far, she asks him to step into the bosun role full-time. "I'd love to," he responds, but in confessional, he lets his nerves show. Luka is terrified, and the pressure's on. For her part, Captain Sandy is sure he can get the job done thanks to Captain Jason's recommendation. She trusts him.
As Jack is putting together his tasting menu, described as his "biography on a plate," the deck team is getting toys back in the water because the wind has settled. Luka goes to pick up the guests, but there's a problem. As Lara pulls in lines, she notices one caught in the prop. She calls Haleigh to watch over her as she dives to remove it. You've gotta love the initiative, but shouldn't she have told Captain Sandy first? What if she needed to power up the yacht suddenly? Regardless, she fixes the problem, so no harm, no foul!
A meal and EDM party to remember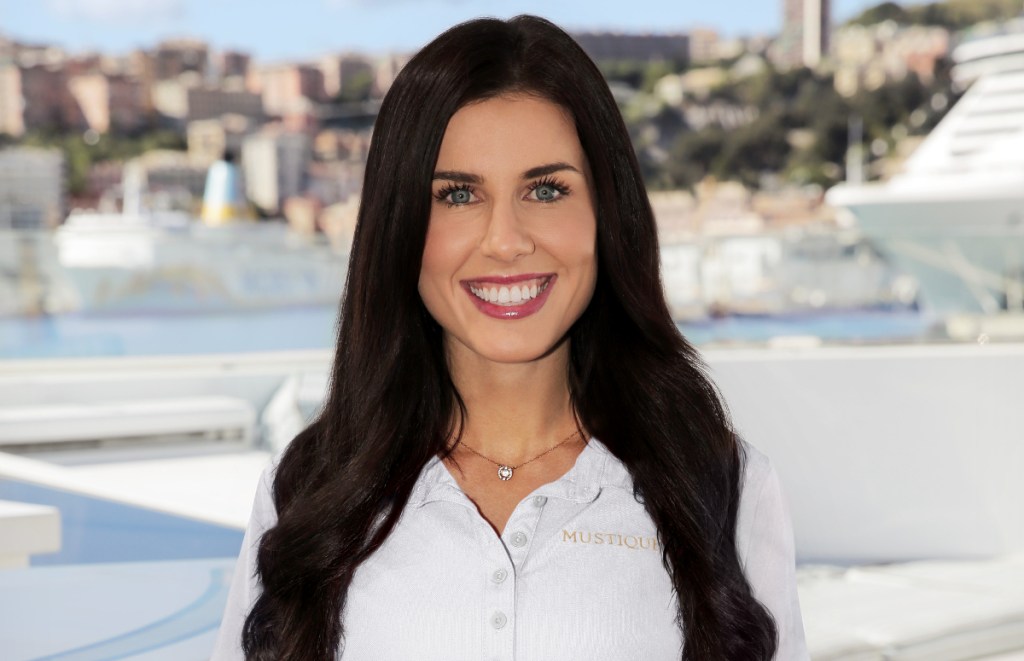 Jack's tasting menu is a huge success, even with Natalya dipping out of service to help set up the night's EDM party because temp stew Brooke was late in helping deckhand Haleigh, and stew Jessika set up. "Shots on me tomorrow, literally on me if you want to," Natalya says to Luka after getting the deck team's help with service. So begins their flirting!
Despite the slow start to decor, the EDM party was a huge success. I need some of those flashing ice cubes. The guests finally reach the dancefloor at 1:15 a.m. before retiring to bed just before 3 a.m. One doesn't make it to their cabin, instead opting to sleep on the couch. Honestly, he looks super comfortable. It probably wasn't a bad decision.
The final day of charter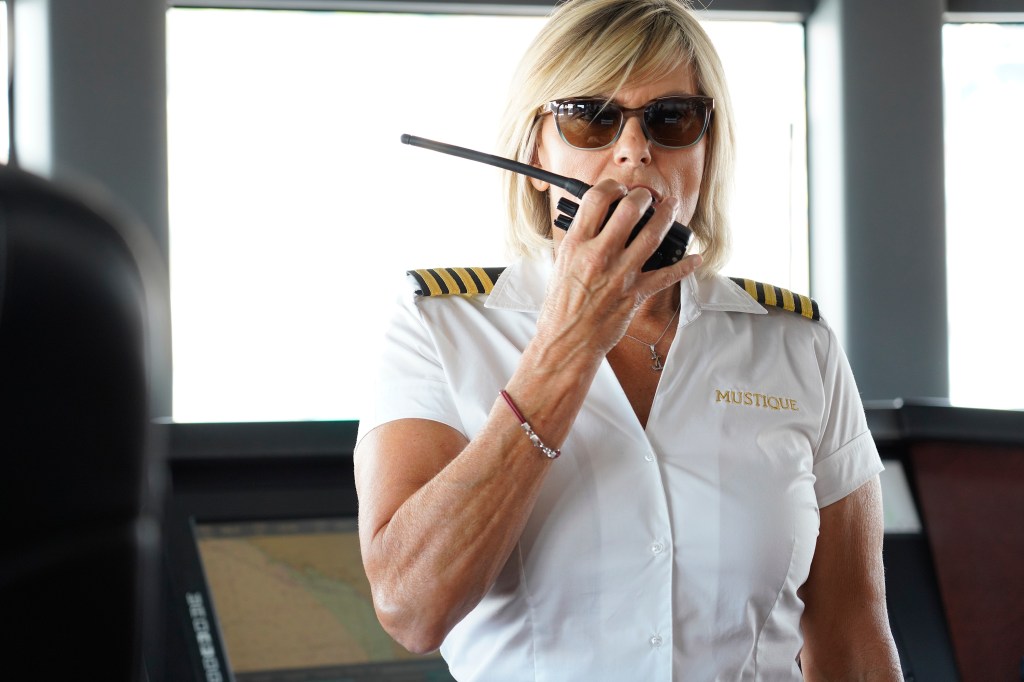 The crew wake up and everybody is tired. Natalya especially, as she only managed four hours of sleep before getting up to prep for the final day of charter. Captain Sandy lets Luka know she wants anchor up at 11:30 a.m., but she reminds him at midday that it's time to haul. There's just one problem when the anchor eventually does get moving; there's a brick attached to it. "I wonder if there's a body attached to that," Captain Sandy jokes.
Borrowing a knife from Jack, Luka hops in a tender and cuts the brick away. It all goes smoothly – perhaps a little too smoothly by Below Deck standards. You're constantly waiting for the sh*t to hit the fan, so seeing success is odd. Captain Sandy agrees, noting that "so far the deck team is a pleasant surprise."
Breakfast goes well, and Jack has learned to deliver the perfect eggs for these guests. As the yacht comes into the dock, all eyes are on Luka. He nails it, and so do the ladies on deck. Top marks all around. "Your crew were incredible," the guests say on departure. They leave a chunky envelope with Captain Sandy, and we all know what that means.
At the tip meeting, Captain Sandy gives everybody huge praise. Luka for taking the initiative as bosun, and Natalya for stepping up as temporary chief. She also thanks Brooke for coming in as a temp. The first tip of the season totals $20,000 USD, breaking down to $1,818 per person. Not bad!
How open is Natalya's relationship?
Natalya seems to be struggling with the concept of her open relationship. Still, that doesn't stop her from appearing in just a towel to ask Luka where the shampoo might be. He notes in confessional that she'd know exactly where it was, as she's on the interior team. Is she trying to get his attention? It's certainly working! Luka says he's happy to have some fun this season, so long as it doesn't get too serious. They sound like a boatmance made in heaven.
Their flirting continues on the night out. They discuss tattoos, and Luka insists he'll see the one on Natalya's upper thigh one day. "In the jacuzzi," he clarifies, with a cheeky glint in his eye. "I've got lust for Luka," Natalya admits in confessional. This is a hookup waiting to happen.
Back at the yacht, Natalya questions her boyfriend via text. He answers her question with one of his own, asking if there are any hot guys aboard. She says yes, and when he doesn't respond, sends him a simple "goodnight" with a couple of kisses thrown in. Perhaps she'll be better at this open relationship than she first thought!
As the next day dawns, the crew get to turning the boat around. Natalya wants it to be perfect so that there's a great impression left on the incoming chief stew. As Tumi gets onboard, she gets a welcome reception from the rest of the crew, even after throwing some shade Natalya's way for living in Miami. I laughed out loud.
It turns out that Kyle, who will be joining as a stew later in the season after dealing with his own visa issues, has warned Tumi about Natalya. "Of course I'm worried," Tumi says in confessional.
So, when Natalya gives Tumi a tour of the yacht, it turns into a clash of personalities. Tumi says that "the organization's a sh*t show," meaning how the boat is laid out. "Excuse me?" Natalya responds, before Tumi clarifies what she means. Natalya then tries to point out how she thinks the yacht is perfectly organized, and Tumi quickly hits back with, "Don't get defensive." She says the work Natalya has done is "impeccable," but their relationship continues to go south.
"Don't put the hands up at me please," Natalya says. Then, the familiar TO BE CONTINUED. Gulp.
TELL US – DID TUMI COME IN TOO HOT? IS NATALYA GOING TO STRUGGLE ADAPTING? HAS CAPTAIN SANDY MADE THE BEST CHOICE TO MAKE LUKA BOSUN?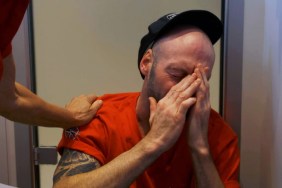 This season of Below Deck Mediterranean started with a secret. The entire thing was essentially constructed on a giant house…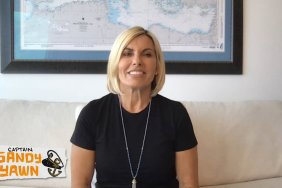 After Hannah Ferrier was fired on the recent Below Deck Mediterranean episode, she decided to stroll the dock and smoke…