We pick up this week's episode of The Real Housewives of Salt Lake City right where we left off last week. The ladies are arriving at the Trixie Motel in Palm Springs. They don't know there's a surprise waiting for them in the form of Angie Katsanevas. Thanks for that sweet and thoughtful gift, Whitney Rose. I hope it doesn't blow up in your face. Here's everything that went down in Real Housewives of Salt Lake City Season 4, Episode 3.
Welcome to the Trixie Motel
Their hostess Trixie Mattel comes out to greet them on the pinkest pool deck ever. The first thing Lisa Barlow says to her is, "I lost my ring, Trixie. It's 60 Gs." Let it go, Barlow. They're all sick of hearing about the tragic loss of your ring. If it didn't fit properly, you shouldn't have been wearing it.
As Trixie finishes her welcome talk, she ends with, "The other ladies are already here, so…"
Before they can say, "What other ladies?" here come Whitney and Angie, waving and smiling. This is not going to go over well.
The trip's hostess Meredith Marks tries to be gracious, hugging Angie and saying, "I didn't know you were gonna be here." As in, "Bitch, I didn't invite you. WTF are you doing here?!"
"This is incredibly ill-mannered and rude," she confesses in an interview. "I can't imagine inviting someone on a trip without talking to the hostess about it." She's livid.
Mary Cosby has no clue. "Who is Angie?" she wants to know.
Next, Trixie takes the ladies on a tour of the beautiful custom-designed rooms. Meredith is annoyed that Whitney and the Uninvited Guest have already claimed their rooms, especially since Whit grabbed the largest one for herself. Meredith settles for the room with the pink bathtub. Of course. "How do I turn down a hot pink tub?" she asks.
Let the drama begin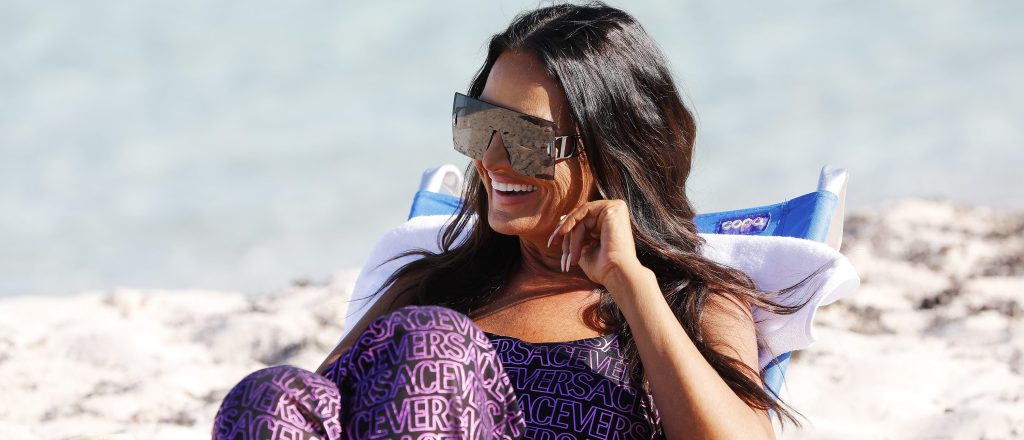 As the ladies scatter to their rooms to settle in and freshen up, Lisa joins Whitney and Angie on the patio. "I don't usually love surprises," Lisa says, "but the Angie K. surprise, I love." She's actually shocked that Meredith excluded her in the first place, especially now that she's a cast member.
Meanwhile, Meredith exits her room and walks past the three ladies sitting by the pool without so much as a word to anybody. That was awkward. But of course, she's on the way to Heather Gay's room to bitch about Angie.
"I don't understand what's happening," Heather begins. "This is your trip."
But Meredith is choosing to be philosophical. "You know what, Heather?" she says. "There are so many bigger things going on in this world right now. If this is what makes her happy, it reflects on her, not on me."
While out on the pool deck, Angie is trying to justify her presence to Lisa. "The last few times I've seen Meredith, she's had no issue with me," she says. That's because she was ignoring you, Angie. You're like gum on the sidewalk, best to be avoided. The salon owner thinks Meredith's excluding her is "passive-aggressive" and "fake."
But back in Heather's room, the opposite side is stating their case. "I don't know why she would think that she would be invited," Meredith says. "Many of our interactions thus far have been rather unpleasant … [She's] just mean-girl nasty."
"[Her being here] is, like, a complete act of war," Heather says. That's a little extreme, but I get her meaning.
Mary enters the fray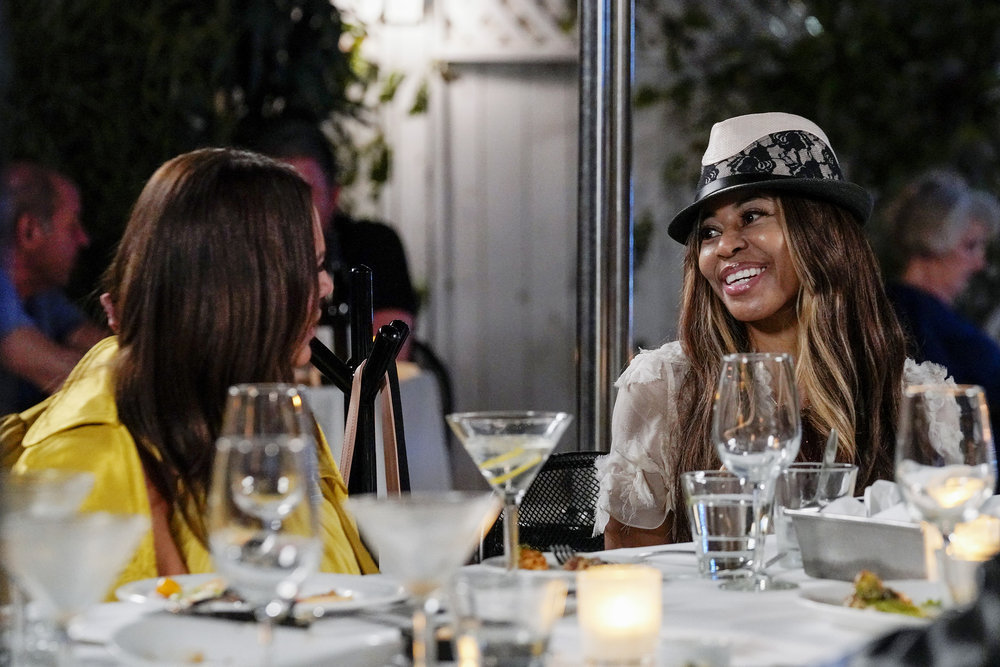 Just as Whitney comments that it's "bikini season," Mary walks out to the pool fully dressed in a frilly blouse and long, black pants. "Come get something to eat," Angie tells her. "Come sit with us."
When Mary takes the long way around the pool, Angie repeats, "Mary, come on over, girl."
"I am not coming over there," Mary snaps. "Please stop talking to me like that. I don't like it." So touchy! But then, Mary is close friends with Meredith, so she may just be trying to scope out the situation.
Angie tries to smooth things over, "Just a little invite if you're interested."
Ignoring Angie, Mary speaks directly to Whitney. "So why are you guys here early? I don't get the connection."
"So Trixie's one of my good friends," the Wild Rose owner brags. "When Meredith invited me to the trip, I reached out to Trixie. I was, like, 'I want to come down early.'" Sure, Jan. In actuality, you wanted to lie in wait so you could ambush surprise Heather and Meredith with Angie's presence.
"It just seems a little childish," Mary comments. Oooh, throw that shade, gurl. That's what Mary does best.
"It might seem childish to you," Angie interjects. "But Whitney's trying to be inclusive…"
"I wasn't even talking to you," Mary dismisses Angie, with a wave of her finger. Snap!
Goodies for the (invited) guests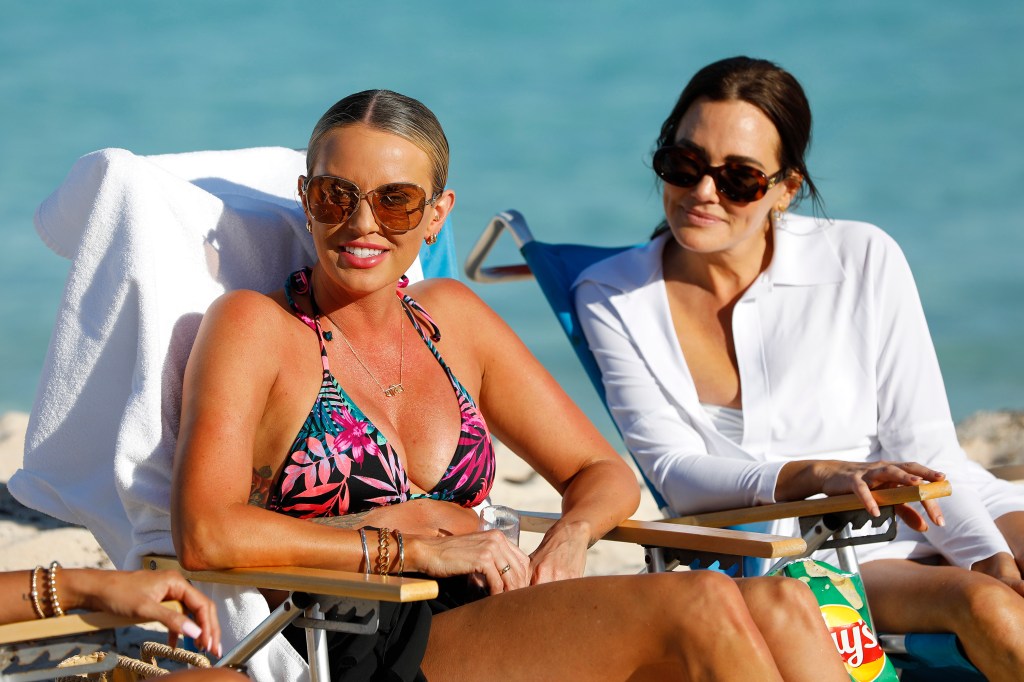 As the women gather at the pool, Meredith comes out with gift bags "for my guests."
"Hmm," Angie tells Lisa, "my guests." I'm guessing there won't be a hostess gift for Angie, since she WASN'T INVITED. Technically, she's an intruder, not a guest. "I'm sure they're just donated sh*t from other companies," she snarks. She has such a sweet personality. I just don't understand why nobody likes her.
Meredith announces that they'll be going shopping this afternoon. They're going to break off into pairs and shop for each other. Since she's trying to rebuild her friendship with Lisa, she and Lisa will be shopping together. Meredith will look for something that "resonates" with her friend, and she can wear it to dinner tonight.
"Maybe a new ring," Mary mutters.
"Remember, this is about trust," Meredith emphasizes, "so don't put the other one in something you know they're not gonna want to wear."
The other teams are Bad Weather (Heather and Whitney), and Monica [Garcia] and Mary. Since Meredith didn't invite know Angie was coming, she suggested Angie could either go on her own or tag along with Whitney. I'm predicting the second option.
"Thank you for acknowledging you didn't invite me," Angie responds. "It's all good, I'll figure it out."
"Eww!" Monica reacts. "Right out the gate, we are sassy to the hostess!"
"I think Monica's way out of line," Angie interviews. "She's coming into this group as my friend, and she's acting disgusted at my comments?" Maybe she's not that close a friend, Ang. Or maybe she just doesn't like you being rude to the hostess who DIDN'T INVITE YOU.
Oh, there's one other caveat. "We are going 'as is,'" adds Meredith, which means they'll be shopping in bikinis!
Belly-aching in the bar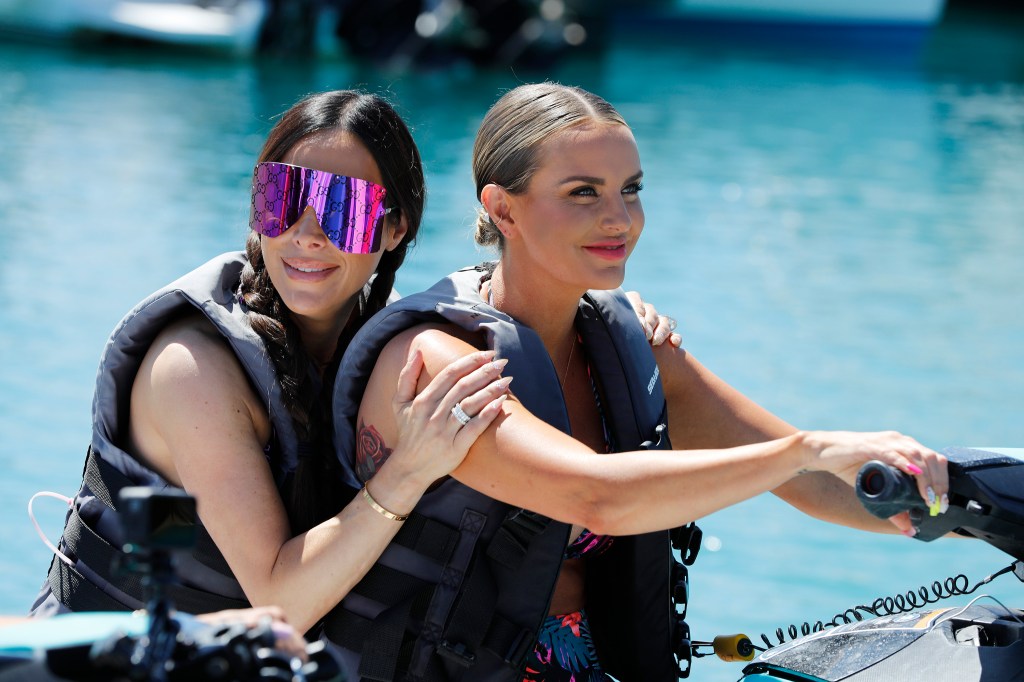 The ladies retire to the bar to fortify themselves for an afternoon of shopping in bikinis – or whatever they happen to be wearing (Mary). Whitney and Lisa rush to comfort Angie. "Are you okay?" Lisa asks.
"It's good," she says. "Light is being shed on the fakery. Monica's over there, like, 'Eww! Right out of the gate!' What a f*cking bitch! You don't talk to anybody like that." Not to their face, anyway. Behind their back is okay, right?
"She has no idea why I have issues with Meredith," Angie continues, "so don't say anything. Don't be a f*cking bigmouth, 'cause you don't know."
At that moment, Monica joins the conversation. "I can hear you guys from the Barbie Malibu room," she says. "It sounds like you're upset." Good for you, Monica. Jump right in there and clear things up.
"I'm glad you're here, Monica," says Angie. "But I also just made that comment to Whitney, and you're, like, 'Eww! Right out of the gate … ' How about [you] check in with me? Like, I introduced you to the friends here. You know what I mean?"
"I mean, you were very rude to the hostess," Monica tells Angie. Go, girl! Don't mince words. "And as your friend, I would tell you that was rude. It sounded condescending and insulting … It took me by surprise that you did that when she's putting this all on. I think you should take it up with her [ie. not me]."
Angie lies, "I have plans to do that tonight. I deserve to be here as much as everyone else." Except that the hostess didn't invite you. What part of "not invited" do you not understand?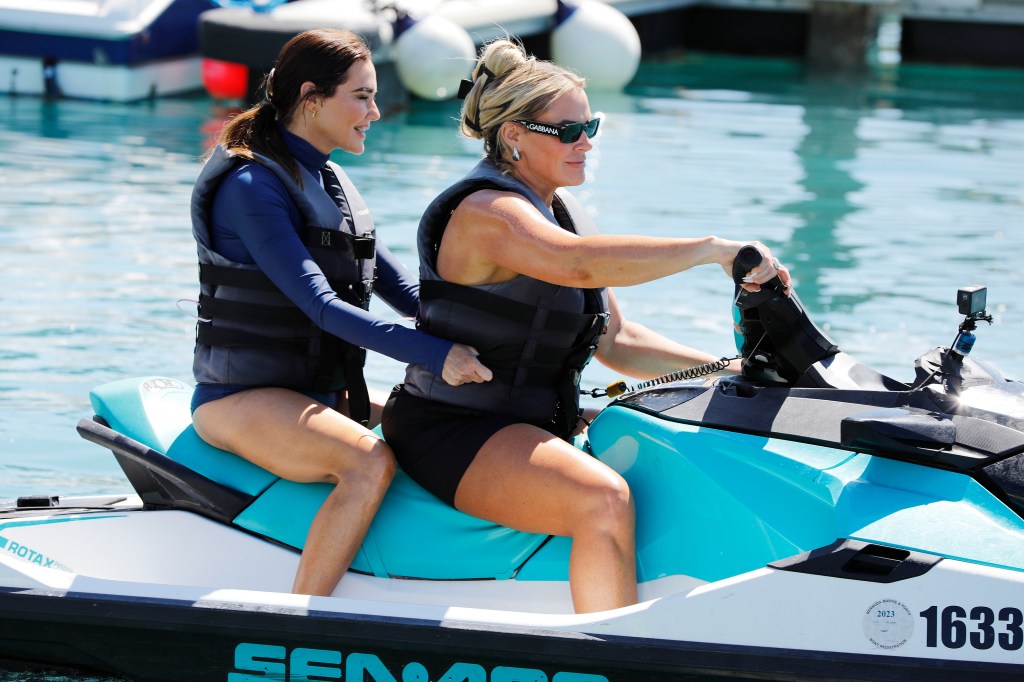 As the ladies head out for the shops of Palm Springs, Lisa says one more time, "You guys, I'm so upset about my ring." It's gone, honey. Insurance will take care of it. Let it go and enjoy your day.
The group separates into two smaller groups to prevent too much crowding in the small boutiques. Heather, Whitney, Lisa, Meredith and Angie jump out at the first stop, while Mary and Monica go on to the other location.
"Picking your clothes out every day is such a personal thing," Meredith interviews. "To let someone else do that for you is definitely a trust-building exercise." You would definitely have to trust that person to pick something you would feel good about wearing. And they should be a good enough friend to care that they do.
"Meredith does not have a good poker face," Lisa says. "She's stuck with Angie, and I don't think she loves it. She's showing all of her cards, and her cards scream 'irritation.'" True, that.
Meanwhile, over in the other shop, Monica's trying to find something Mary would like. "I don't mind being paired up with Monica," Mary admits. "But, um…" Has Mary met Angie before? She clearly doesn't like her.
The outfit Mary chooses for Monica, however, is stunning. It's a black coatdress covered with patterned sequins. It's really pretty and goes well with Monica's dark hair. "You needed to have a daughter, 'cause you are dressing me!" Monica exclaims.
"That right there is what you're wearing to dinner," Mary tells her, and Monica agrees. Done.
Back in the other shop

Lisa comes out of the dressing room wearing a see-through top with a jangly coin skit. She looks like a belly dancer. "Obviously, Meredith hates me," she says. "I learned that I cannot trust Meredith's style. At all."
While Heather started out well picking a dress for Whitney, she should have stopped there. She's layered a gauzy white coat over it, making Whit look like a lab technician. But the multi-colored leather jacket Whit picks for her cousin is fire, and Heather loves it.
When Whitney asks Angie to come out, Heather plays dumb, "Who?" Heather pretends she forgot Angie was there, making Meredith laugh.
Angie's outfit is a mess of bronze satin held together with random gold chains. She says it reminds her of her Greek heritage. But Meredith disagrees, calling it "more like a Greek tragedy."
"Looking around at all of our outfits," Heather interviews, "we look like the rejected Barbies at the bottom of the toy trunk." For real.
Time to go to dinner! Almost all of them look hideous. If this were a competition, Mary would win, because Monica looks fabulous.
Also, Lisa is "still really upset about losing my ring." Give it a rest, Lisa.
Dinner at Cary Grant's former Palm Springs estate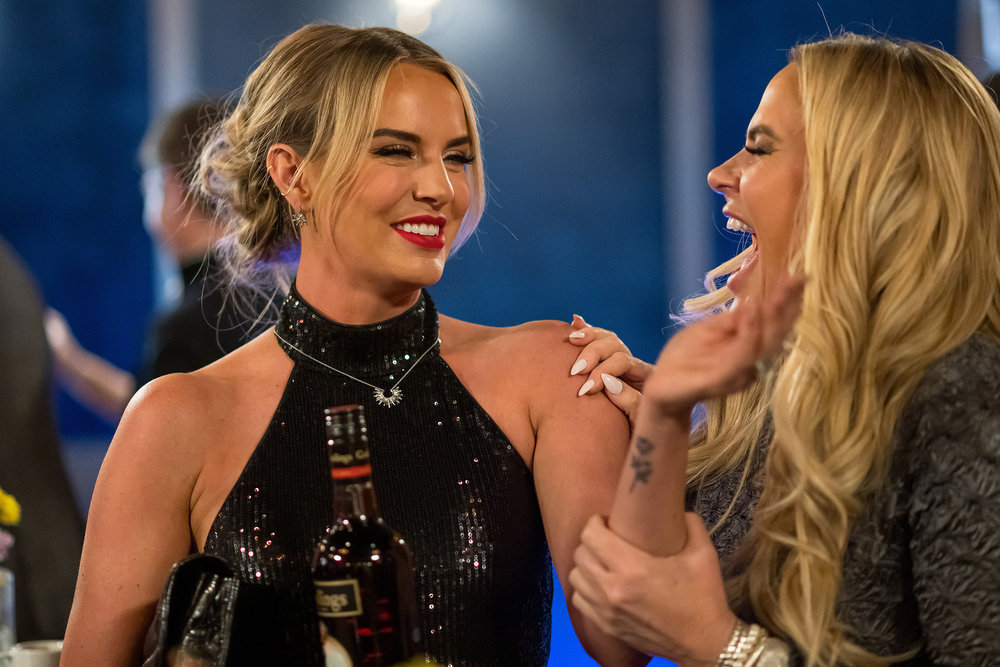 When Lisa Googles the restaurant they're going to for dinner, she discovers that it's movie actor Cary Grant's former Palm Springs estate, now a five-star restaurant.
"And I'm wearing this," she complains. "I'm in a bathing suit going to a five-star restaurant."
"I prepared for this trip," Lisa interviews. "My shopper in Milan sent all these beautiful things to me. First I lost my ring, and now I am going to dinner … in my bikini with a knockoff Givenchy top and a skirt that I stole from a Middle Eastern dancer. This is no longer a fun girls' trip. This is like The Shining and I'm trapped and next thing you know, two twins are going to knock on my door and say, 'Redrum.'" No, Lisa, they will ask if you want to play. Get your characters straight.
Finally, they arrive at Copley's and are escorted to their table by the hostess, who tells them they all look wonderful. "We know you're lying to us, but we appreciate it," Lisa says. Kind of rude, Lisa. Don't take it out on the poor hostess lady. She's just doing her job.
"Lisa," Mary interviews, "whoever picked out your outfit, they don't like you. Like, you should know that going forward." I think she's already figured that out (see above).
Getting to know each other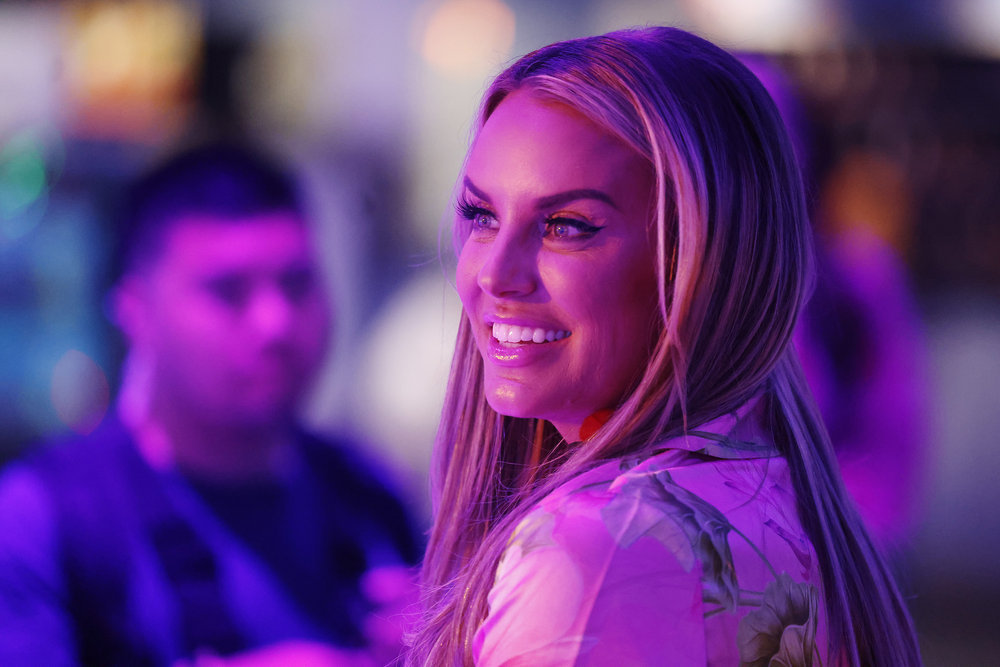 Whitney suggests they play a game to get to know each other better. This never goes well. She should know better, but then maybe she's just trying to stir the pot. "Think of something that not everyone knows about you," she says. "[Something] that might shock the group, so we can get to know you better."
Meredith volunteers to start. "I used to come to Palm Springs as a child," she says, "to visit my grandparents." The ladies giggle a little over how innocuous a revelation it is, but Meredith's playing it safe. And it is a sweet memory.
"I like to write," Whitney admits. "I used to write poems, and I'm kind of getting back to that." Safe and boring. Where's the juicy stuff? Come on, ladies.
"I'm into birds lately, ever since I moved," Heather says. "I just got a birdhouse with a camera, so I can watch them." Please. I know these ladies can't really be this boring.
When it's her turn, Mary says, "I don't know. I'm truly a loner." We know that, Mary. Is that shocking? No.
Let's see what Angie's got to share. "For some of you who don't know me," she begins, "you might think I'm a badass or a hardass…"
"I don't think we think that," Monica pipes up.
"But I'm actually very sensitive," Angie finishes.
Lisa shares excitedly, "I did get my first second pair of piercings [ears] this week. I'm so naughty!" Snore.
Monica blows everybody's minds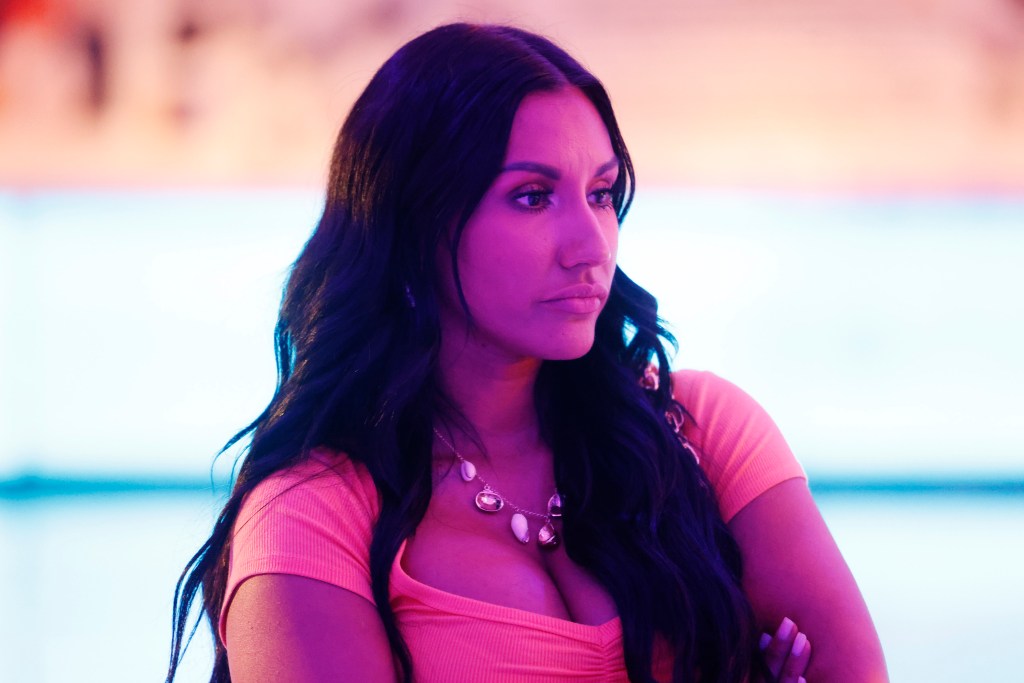 "Y'all are boring!" Monica announces. Amen, sister. She's having flashbacks of being at the senior center with her nana, but those women were more interesting than these women are.
Okay, here she comes. Brace yourself, ladies, with your birds and your poetry and your double-pierced ears. Monica opens up both barrels, "I f*cked my brother-in-law for 18 months." She goes on to clarify that it was her husband's sister's husband, not her sister's husband.
Mary's eyes nearly pop out of her head. If anyone was wearing pearls, they'd be clutching them. And Heather decides she'd better change up the game before things get out of hand.
Warm and fuzzy/cold and prickly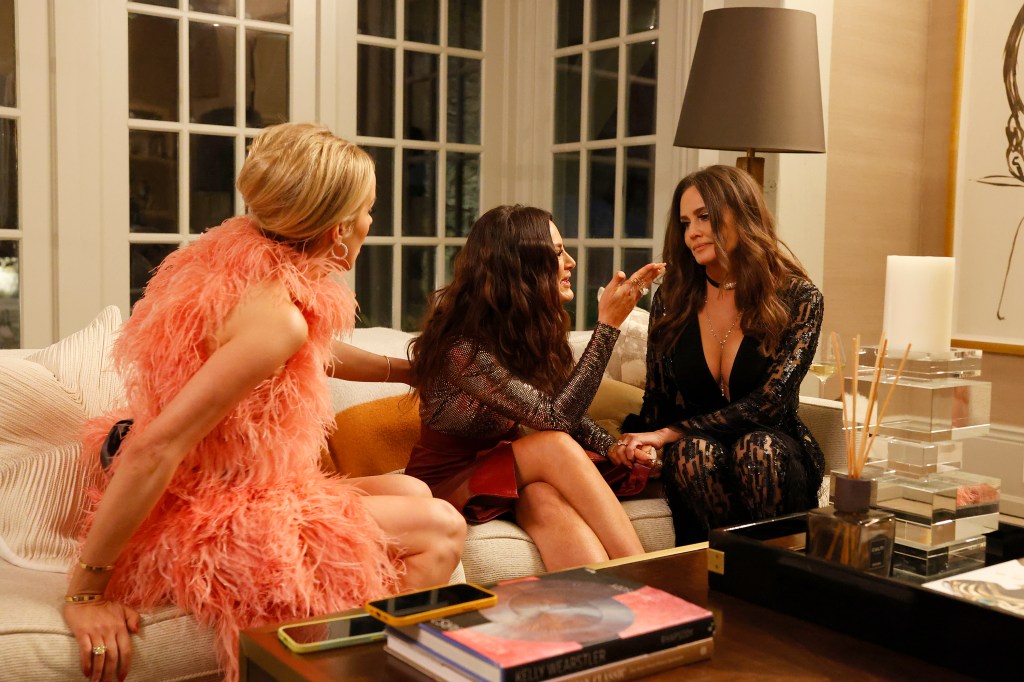 Whitney suggests a new game. "The person to your right, you say something that you love about them (the warm and fuzzy). Then as their friend, you say something they need to work on (cold and prickly)." Oh yeah, this is going to go well.
Heather starts. Looking at Angie to her right, she says their high school memories are the warm and fuzzy. When moving on to cold and prickly, Heather hesitates. "I mean, uh, … I don't trust you." Well, that's not so bad. But of course, the other ladies need more details.
"I don't trust you, because you were all over Jen [Shah], and that didn't work out," Heather says. "Then you were all over Lisa, and that didn't work out. Now you're all over Whitney."
"I've known her longer than any of these women," Heather interviews. "She was my friend in high school. But she's continually chosen to 'buddy up' with anyone in the room except for me. I don't trust people that sh*t on history and friendship … I just don't."
When it's Meredith's turn, she tells Whitney to her right that her "warm and fuzzy" is that she always has good intentions.
Whitney jumps in and asks if her "cold and prickly" is that she invited Angie on the trip, which Meredith denies. She cops out and says that Whit needs to work on her communication, which she is.
"Wait, Meredith, no," Mary interrupts. "That's not what you said about her bringing [Angie] earlier today. Like, you didn't like that. You had some type of feeling about it." Cue the clip of Meredith bitching earlier in the day about Whitney bringing an uninvited guest, showing up early and taking the biggest room.
Monica tries to lower the temperature in the room
Looking at Lisa, Monica tells her, "I love that you are here in pretty much a thong … You were a good sport about it. My prickly: as somebody going through a divorce, just me and my four kids trying to figure out what the F we're doing with our lives, it was hard to listen all day to you losing a $60,000 ring." Go, Monica. "Just be aware."
"What's your deal with me, Monica?" Lisa interviews. "When you can afford to buy a $58,000 ring, you'll care about it, too. Shut the f*ck up." Actually, that's just what she's asking you to do, Lisa.
Finally, both Monica and Lisa agree, "This is a sh*t game." Yup. Who plays games like that? Just talk to each other. That's how you get to know each other.
Angie forgets she's still not supposed to be there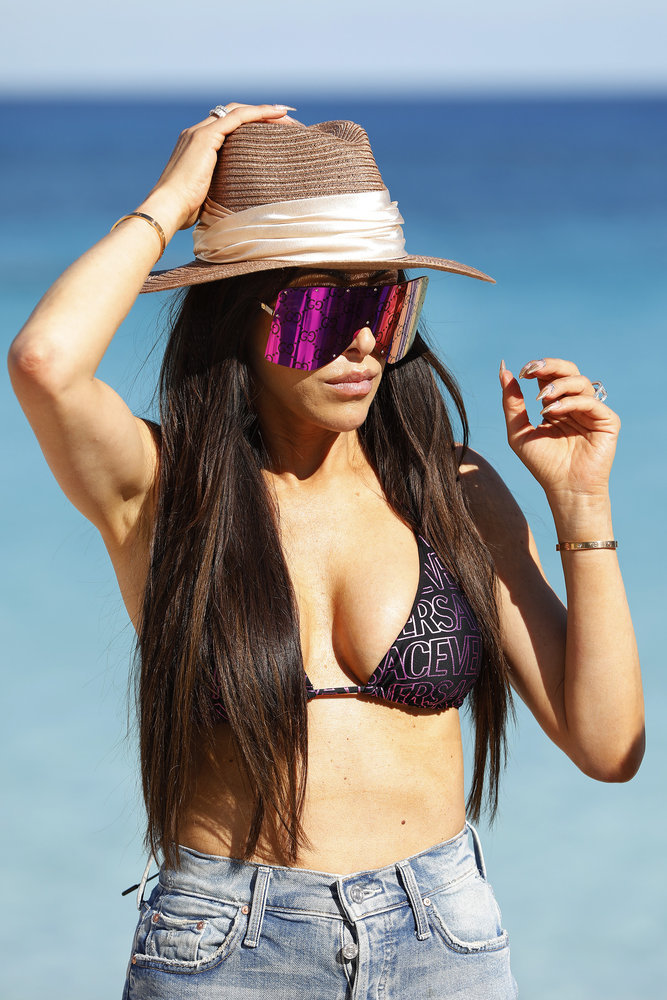 "I'm gonna do a really fun dinner toast, 'cause Greeks like to toast," Angie begins, getting the side-eye from Meredith. "At my house, we do a fun thing, which is to share a new [Greek] word of the day. I want to share a word that I feel is kind of encompassing this evening and a little bit of this trip for me. She gave the Greek for 'fake.'" Yikes. That wasn't a "fun toast." That was pretty aggressively an in-your-face insult disguised as a toast.
"I came here with an open heart," she goes on. "I thought we were friends."
"You publicly said that you will never be friends with me," Meredith responds. "Why would I invite you, and why would you want to come here?"
"You've treated me really inappropriately," Angie adds, saying she just wants to "explain to you how you've made me feel."
"I'm not really interested," Meredith shrugs, sipping her wine, and getting a guffaw out of Heather.
"You're being very rude," Angie says. And it wasn't rude to call everybody "fake" a couple of moments ago?
"You can leave then," Meredith responds. "This is not your dinner. You can leave … You were not invited by me, and you can go."
"I have been nothing but kind and supportive to you," insists Angie, who minutes later starts dredging up every insult she can think of to throw at Meredith.
As the situation dissolves into chaos, Meredith finally says emphatically, "You … can … leave!" Please go, Angie. You're embarrassing yourself.
But Angie still refuses to leave, so finally Meredith removes herself from her own dinner party. "I think Meredith shouldn't have had that last drink," Mary comments.
Meredith's got her own bomb to drop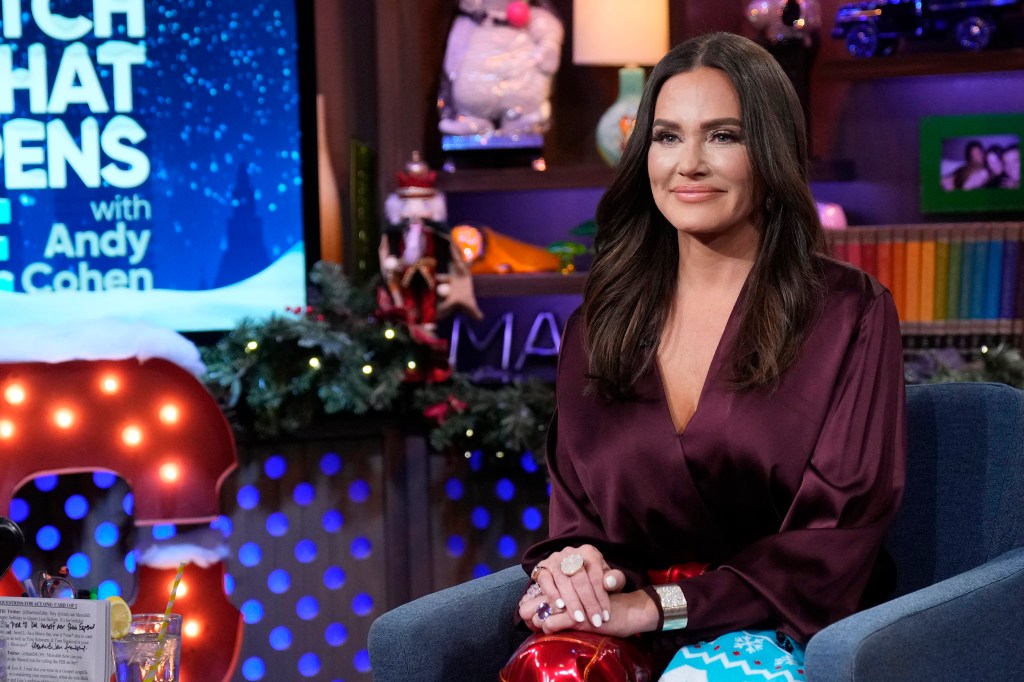 To her credit, Lisa follows Meredith out to the parking lot and tries to comfort her. Lisa acknowledges that "we've all been through a lot these past few years, and we all have things we're dealing with."
"No, if I want to go for the jugular and talk about this sh*t, I can do that," Meredith says. "The rumors and nastiness about her … I can do that. You know what? You want me to go there about her husband? I can go there." Uh oh.
The odd thing during this conversation is that sometimes, as Heather mentioned at the table, Meredith either slips in and out of an English accent. Or she's just had entirely too much to drink.
"Don't f*ck with me," she says to Lisa. "Tell her to f*ck off."
"Okay," is all Lisa can say.
Heather's been overserved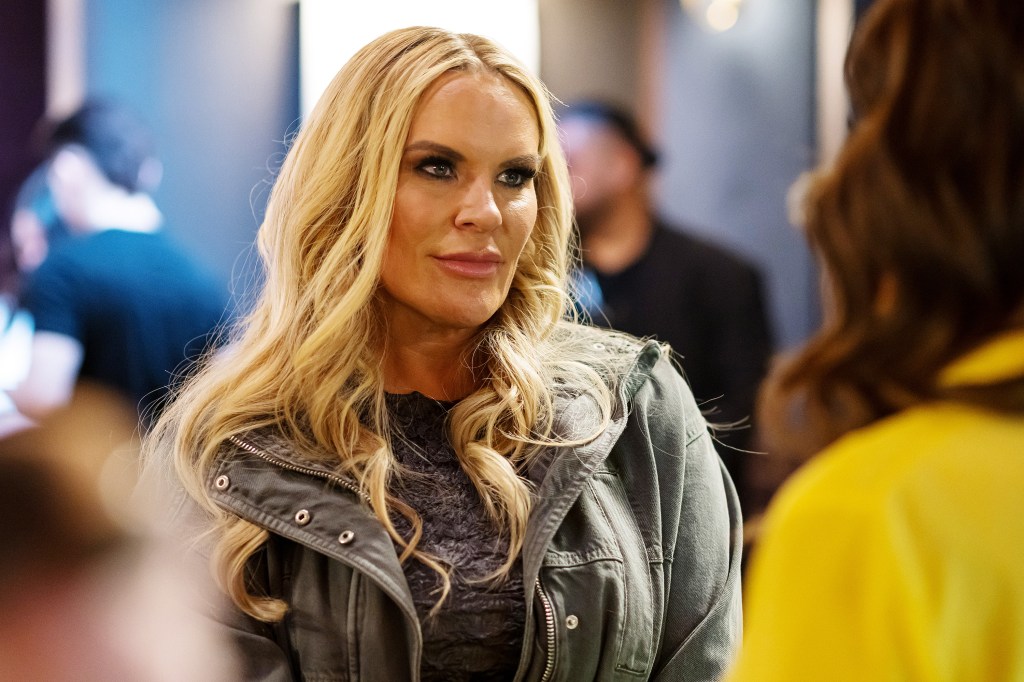 At last, the ladies decide to just put a fork in this awful evening. Heather's had too many espresso martinis, and she's wasted. "You guys," she begs, "make sure I get home without a black eye."
Meredith has her head on the shoulder of her new friend Monica, and she's crying. "I'm sorry for whatever you're going through right now," Monica says. But Whitney's doubting her story that she has friends who are going through something terrible right now, but she can't talk about it.
"Whenever Meredith's put on the spot, this is what she does," Whitney interviews. "She pulls in some big thing she's going through … I mean, it's always something." Give it a rest, Whit. She's obviously upset.
"I don't like all this fighting," Mary says. "Like, I didn't come for this. And they're not even good at fighting." Is this a new Mary? I don't remember her being so funny before. I always just found her annoying and judgmental, but this Mary is hilarious. When did she become a comedienne?
"She's fragile, broken up and then you attack her," Mary scolds Whitney.
"Mary, no I didn't," Whitney says. "I stood up for myself and I stood up for the situation."
"She didn't ask for your opinion," Mary insists. "You need to grow up." In my head I add the words "little girl" to that sentence.
And the evening ends with Heather too drunk to walk into her room, so she throws up in the van. Nice. What a fun evening!
Real Housewives of Salt Lake City continues at 9/8c on Tuesdays on Bravo.
TELL US – DO YOU THINK WHITNEY WAS OUT TO CAUSE TROUBLE WHEN SHE INVITED ANGIE ON THE GIRLS' TRIP? WHOSE SIDE WERE YOU ON IN THE SHOWDOWN?